Smith, Pace spur GU comeback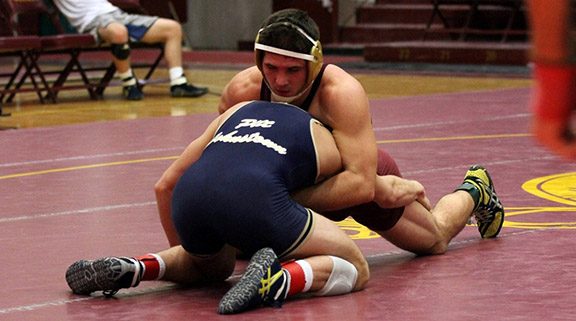 Garret Smith and Casey Pace were instrumental in the Gannon University wrestling team's 16-0 scoring surge that led the Knights to a 25-12 comeback victory over Wheeling Jesuit Wednesday night.
Gannon fell behind 6-3 after the first three bouts, before Eric Lewandowski was able to pin Skyler Terrell 4 minutes, 44 seconds into his 149-pound match.
The dominant win helped the Knights take a 9-6 advantage and swing momentum in their favor.
Coach Don Henry said it's crucial during dual meets to be able to feed off your teammates' success before taking the mat.
"Momentum is really key in wrestling," Henry said. "You can use other people's energy to energize yourself."
Smith agreed with Henry and added that Lewandowski's win motivated his strong performance. "I get hyped when my teammates do well before me," he said.
Smith, who ranked No. 4 in the region heading into the match, appeared energized when he squared off against fifth-ranked Dominick Nania.
Smith had faced Nania before on Nov. 15 at the Mount Union Open and won 21-18.
Henry said Smith's knack for getting in high-scoring matches can be derived from his high-intensity style of wrestling.
"He goes for things and isn't afraid to take risks," Henry said. "Sometimes it helps and sometimes it doesn't."
Smith's fearless mentality was on display when he opened the match by grabbing a takedown. Nania quickly responded with a reversal and a three-point nearfall. Smith countered with a reversal of his own and two-point nearfall to take a 7-5 lead into the second period.
Smith said he likes to test his opponents in the first period because it gives him more time to get a feel for the match.
"I like high scoring," Smith said. "A lot of people like to go through the first period 0-0, but I want to score."
Nania started the third period by shooting in for his first takedown of the match. Smith recovered with a reversal and a quick takedown. He sealed the match with a three-point nearfall to secure a 18-10 major decision.
Henry said Smith is peaking at the right time and is in a good position to take his success into this weekend's regional tournament.
"[Nania] was dangerous and talented, and we tried to stay away from his strengths," Henry said. "And stay off our back as much as possible."
The 165-pound match followed promptly. Unranked in the region heading into the match, Pace was able to win a close 5-3 decision over fifth-ranked Reyse Wallbrown.
Pace said he was able to set the tone for the match by getting an early takedown in the first period.
"It took a lot of pressure off and put the pressure on him," Pace said.
Pace managed to take a 3-2 lead into the third period and secured the 5-3 victory with another takedown.
He said getting a victory against a regionally ranked opponent was great for his confidence heading into the regional tournament.
"It helps a lot," Pace said. "And it shows me that I'm right there with the better wrestlers in the region."
Pace's decision victory gave the Knights a 16-6 lead in the dual meet and paved the way to Gannon's 25-12 victory. Henry said the momentum from Smith's and Pace's wins gave the team the edge in a tight matchup.
"On paper, this match was even," Henry said. "And I think we really out-wrestled them and had a couple upsets."
CONNOR SONDEL