Senior Zelcs drops to 174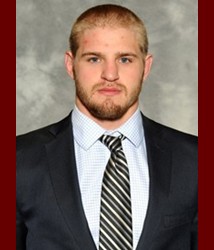 The Gannon University wrestling team is loaded with talent this season as it currently has five wrestlers who are ranked in NCAA Division II Super Region One.
Among them is redshirt senior Zack Zelcs, who is currently ranked No. 3 regionally at the 174-pound weight class after being ranked all year at 184 pounds. After missing the entire first semester due to injury, Zelcs compiled a record of 6-1 at the 184-pound weight class before finally making the drop.
Zelcs had been considering the cut to 174 pounds from 184 pounds since last season, and he continued to weigh his options during the offseason because he had a history of weighing in well under the 184-pound weight limit.
"So this year I finally said to heck with it and pulled the trigger and dropped," Zelcs said. "Being so close to 174 already, coupled with my drive wasn't too difficult."
Now that he is actually at 174 pounds he says, "I feel healthier than ever."
Zelcs has yet to compete at the 174-pound weight class, but he feels that once he finally does compete at the lower weight class that he will be able to wrestle at the best of his abilities, and he has his eye set on the grand prize this season.
"As always, the goal is to win a national title," he said.
With his goal in mind he is focusing on his preparation for the post -season.
"The preparation for achieving that goal is simply trying to stay on course, like a horse with its blinders," he said.
The Knights have dropped two straight close head-to-head matches in Zelcs' absence. The Knights dropped a close 18-15 setback against Seton Hill and a 19-15 loss to Lake Erie College.
However, the 174-pounder is assumed to be back in action at 7 p.m. Wednesday night in the Hammermill Center as the Knights take on their cross-town rival No. 7 ranked Mercyhurst University. He will most certainly be looking to take that next step toward achieving his goal of a national title.
CHASE MANTINI