Mural takes shape quickly on AJ's Way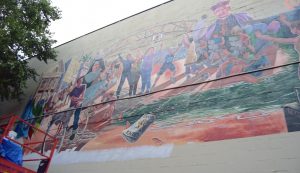 Work has rapidly progressed on a long-awaited new mural on AJ's Way. The mural has been in the making for three years.
Carol Hayes, an instructor in the English department, said that the idea for the mural was created in a freshman classroom of 13 students in the Fall of 2014.
Evan DeFalco, a senior biology pre-med major, was involved in the mural creation.
"I am filled with joy to know that I was a part of this, but I am happier that others continued to put work in to make it come to life," DeFalco said.
According to Hayes, this idea came about when the class was thinking about a proposal project. Students of the class created a PowerPoint proposal for the mural.
After the PowerPoint was complete, students presented the proposal to Linda Fleming, dean of the College of Humanities, Education and Social Sciences.
The artist chosen to create the mural, Ehren Knapp, was selected by a student vote. Knapp has worked on murals around the Erie community before.
His work can be seen in the Erie Airport, in the Children's Museum, on 12th Street and on Main Street.
According to Hayes, Knapp used a polytab material for the mural, which was installed on the wall. This method was a reason this artist was chosen by students.
According to Hayes, Knapp showed students thumbprint sketches of possible murals. From these sketches, students pointed out aspects that they liked, and things that should be altered. Knapp took notes on these ideas.
In March 2016, students presented the idea to the Student Government Association (SGA) in order to ask for financial help.
According to Hayes, SGA offered substantial help to the project. This allowed Knapp to begin working on the drawing for the mural. Hayes said that, after being reviewed by administrative committees, the funding for the project became assured in the summer of 2017.
Hayes said she hopes students will take something away from the mural.
"We hope that students will enjoy finding recognizable images in the mural, but more than that we hope they will find it a source of pride," she said.
"It is a way of recognizing Gannon's commitment to carrying honored traditions forward while it is creating new ways of celebrating learning, community engagement, spirituality and service."
Work on the mural began Friday and is set to be finished before Homecoming Weekend begins on Oct. 5.
HARLEE BOEHM
[email protected]