Lacrosse falls to Storm in drastic weather change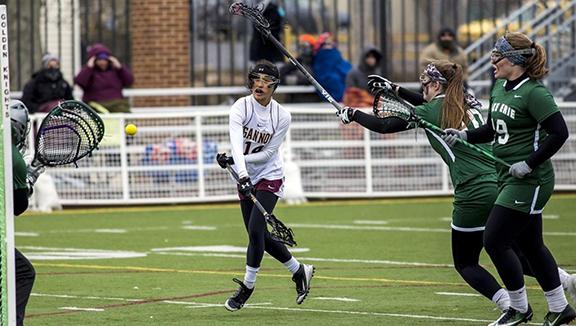 Coming back from sunny, 75-degree weather in Florida to the frigid temperatures of Erie was a big transition for the Gannon University women's lacrosse team.
After going 1-1 in Florida, the Knights came back to face Lake Erie College on Saturday and lost 11-4 at McConnell Family Stadium.
The Knights began the game at a disadvantage as the Storm got a 3-0 leg up before Gannon drew blood 19 minutes, 11 seconds into the match, putting the score at 3-1.
Sophomore Alexa Bower netted the first goal off an assist from junior Lelani King.
Bower has five goals on the season in three games and King has three assists and three goals.
For the remainder of the half, Lake Erie controlled the offense with four more goals to put the score at 7-1 going into intermission in favor of the Storm.
The opening of the second half went better than the first for Gannon as the teams split four goals making the score 9-3, still in favor of Lake Erie.
Bower again came through with a goal as she and freshman Kennedy Walters scored before and after a couple of Lake Erie goals.
Lake Erie's Anastasia Crawford added two goals to put the score at 11-3.
Bower rounded out the scoring for the Knights and completed her first hat trick of the season scoring her third goal at the 4:19 mark.
Sophomore Micaela Capozzo and senior Katie Miller led the Knights in ground balls with three apiece and freshman Charla Tate made her third consecutive start in goal, recording seven saves.
The Knights were slated to take on Robert Wesleyan College Wednesday at home but that game has been postponed due to inclement weather. The makeup time, date and location had not yet been determined as of press time.
Check the Gannon sports website for updates on the game.
Weather permitting, the Knights will take on the University of Findlay at 3 p.m. Friday at McConnell Family Stadium.
BRANDON JACES
[email protected]