Women finish seventh of 12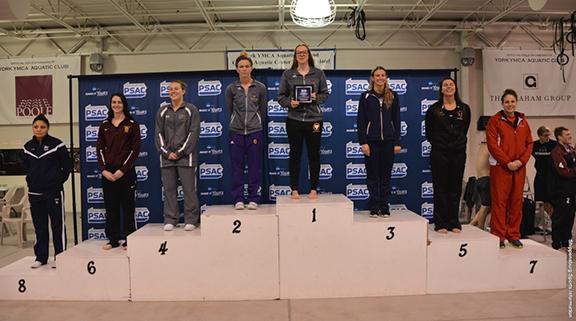 The Gannon University women's swim team put a season full of preparation on the line last weekend at the Pennsylvania State Athletic Conference championships in York, and the Knights wound up finishing seventh among 12 teams.
West Chester won the four-day meet, which started Thursday and concluded Sunday, with 1,817 points, outdistancing Bloomsburg (1,073.5) and Shippensburg (796).
Gannon earned two top-10 finishes in the final day of competition.
Samantha Favret took sixth in the 200-yard backstroke with a time of 2 minutes, 5.82 seconds.
Her sixth-place spot was the highest finish by an individual Knight swimmer at this year's championships, and she was the only Gannon swimmer to place in the top eight in two different events.
Another highlighted performance Sunday came from Abby Wu, who placed 10th in the 200 backstroke with a time of 2:06.88.
On top of the two top-10 finishes, another notable performance was from Courtney Hubert, who finished 11th in the 100 freestyle in 53.53 seconds.
In Saturday's third day of competition, Meghan Terwilliger wound up eighth in the 200 butterfly with a time of 2:10.50.
Favret finished ninth in the 100 backstroke in 57.46 seconds while Gabrielle Borza placed 16th in the 100 breaststroke (1:08.78) and Wu came in 11th in the 200 butterfly (2:11.39).
No Gannon swimmer managed to finish among the top 10 in Friday's second day of competition.
Wu came the closest when she finished 11th in the 400 IM with a time of 4:38.40. Terwilliger placed 14th in the 100 butterfly (58.94) while Jillian Pritchard posted a time of 1:57.68 to finish 15th in the 200 freestyle.
Favret's other top-eight finish came on the meet's first day when she finished eighth in the 50 freestyle with a time of 24.45 seconds.
Also on the first day, Wu came in 15th in the 200 IM (2:11.68) and Hubert placed 11th in the 50 free (24.51).
Freshman Sammie Schmitz said PSACs helps her team put its goals into perspective, and it lets the team know how hard it needs to train.
"Swimmers are encouraged to continue training, setting personal expectations, improving nutrition, cross training, and getting rest for the next season so we can come back stronger for the next season," Schmitz said.
KISHAN PATEL
[email protected]