Women's swimming falls to Edinboro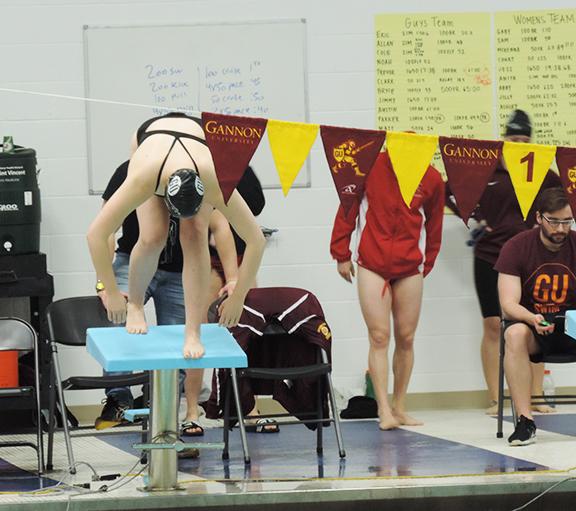 It was a close race for the Gannon University women's swim team Saturday, but the Knights came up on the short end of a 105-100 score as they battled Edinboro at the Carneval Athletic Pavilion.
It was a big day for some of the Knight swimmers as this meet celebrated Senior Day. Gannon recognized four seniors: Gabrielle Borza, Samantha Favret, Anita Peduto and Abby Wu.
Gannon posted five individual first-place finishes against the Fighting Scots, including one by Favret. She won the 100-yard backstroke in 1 minute, .43 seconds.
Freshman Jillian Pritchard won the 200 freestyle as well as the 500 freestyle. She finished the 200 freestyle in 2:01.97 and won the 500 freestyle in 5:26.62.
Sophomore Courteney Hubert captured the 100 freestyle in 55.96 seconds. The fourth win came from freshman Ashley Rega as she swam the 100 butterfly in 1:00.67.
The Knights' final victory came in the 200 freestyle relay as Pritchard, Hubert, Rega, and Favret joined to post a winning time of 1:41.02.
The Knights had six swimmers qualify for next month's Pennsylvania State Athletic Conference Championship meet.
Pritchard's first-place time got her into the 200 freestyle event and she also made the grade in the 500 freestyle with a time of 5:26.62.
Rega qualified for the 50 freestyle with a time of 25.60 and also landed a spot with her winning time in the 100 butterfly.
Wu made the best of her Senior Day by qualifying in the 100 butterfly, swimming it in 57.27 seconds.
Meghan Terwilliger also qualified for the 100 butterfly with a mark of 58.34, and Hubert made the PSAC meet in the 100 freestyle with her winning time of 55.96.
Favret also had a strong meet, as her winning time of 1:00.43 qualified her for the 100 backstroke.
The Knights weren't able to fight off Edinboro Saturday, but are now gearing up for the PSAC Championship meet, to be held Feb. 16-19 at the Graham Aquatic Center in York, Pa.
Fourteen Gannon swimmers will be competing in the women's portion of the meet.
CIARA RAND
[email protected]