Two wrestlers bring home gold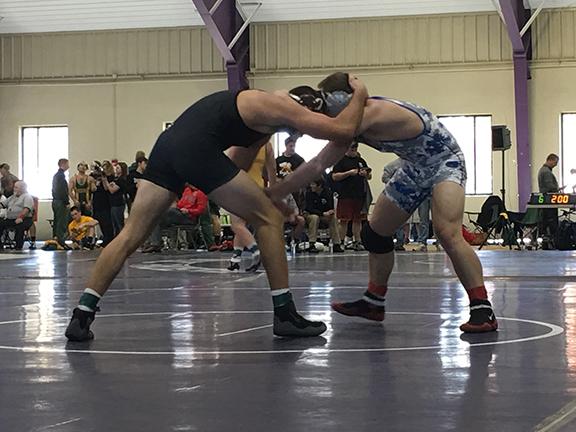 Gannon University's wrestling team began its season on a most positive note over the weekend, as two Knights brought home first-place finishes at the annual Mount Union Invitational.
True freshman Carmine Ciotti, wrestling at 133 pounds, and redshirt senior Christopher Matthews, competing at 174 pounds, won their respective weight classes at the event, which attracted nine schools, including fellow PSAC teams Seton Hill and rival Mercyhurst.
In all, 11 Gannon wrestlers placed, and the team finished fifth overall.
Gannon assistant coach Tom Boyd said the tournament is a great way to start the season because of the various levels of competition.
The event featured everything from new wrestlers looking to make their college debuts to fifth-year seniors looking to start their climb back to the NCAA national tournament at the end of the season.
Ciotti fell into that first category, as he opened his career by winning all four of his matches. He completely dominated the weekend with one of the best opening performances the wrestling program has had in a while, pinning three of his four opponents.
One of those pins came in the championship match, where he stopped Lake Erie's Andrew Lieb in 3 minutes, 42 seconds.
Ciotti's other victory came in the semifinal match, as he posted a 6-4 decision win over Super Region I's sixth-ranked wrestler, Rodney Sunday of Seton Hill.
Matthews, a returning national qualifier, needed five matches to win his weight class.
He outscored his opponents 45-15, including three regular decisions and two major decisions.
Matthews was forced to wrestle teammate Jake Stratton in the finals, and he prevailed in a 14-4 major decision.
Among Gannon's other wrestlers who placed were redshirt junior heavyweight Nick Budd, who finished second, and redshirt senior Garret Smith, who rebounded from a semifinal loss to take third at 165 pounds.
At 184 pounds, Nicholas Costa wrestled his way to the semifinal round in which he dropped a tough 5-4 decision and suffered back-to-back injury defaults to wind up sixth.
Four other Knights finished seventh in their respective classes — Abraham Guarriello at 125 pounds, Giovanni Ciotti at 149, Jared Sample at 157 and Ethan Budd at 197.
Boyd said he was pleased with the team's effort at Mount Union.
"I think we've got a solid group of kids this year," he said. "Even when we have those challenge matches and our guy loses, the guy he loses to is pretty darn tough.
"I've seen some guys that are scrapping and some guys with a good upper body work, good shots, good top game — everything, which is awesome to see."
Two of Gannon's regionally ranked wrestlers — John Marotto at 141 and Eric Lewandowski at 157 — did not compete at Mount Union.
The Knights will return to action Saturday at the Findlay Open in Findlay, Ohio.
MATTHEW NEWARA
[email protected]