Women swimmers place third, first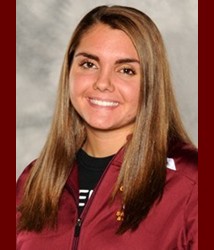 The Gannon University women's swimming and diving team ended its season-opening weekend with a 62-45 win over Tiffin and came in third out of five schools the day before at Westminster College.
In the win over Tiffin, the Knights collected eight first-place finishes, two of which came from freshman Ashley Rega in the 50-yard freestyle in 25.50 seconds and the 100 butterfly (1:00.15). Both are PSAC qualifying times.
Sophomore Courteney Hubert won and earned a PSAC qualifying time in the 100 freestyle with a time of 54.96. Senior Samantha Favret placed first in the 100 backstroke in 1:02.31, qualifying her for PSACs.
Senior Gabrielle Borza had a first-place finish in the 100 breaststroke with a PSAC qualifying time of 1:11.55. Rounding out the individual winners was senior Abby Wu in the 1,000 freestyle with a PSAC qualifying mark of 11:27.77.
In the relays, the Knights earned gold in 400 freestyle relay with a time of 3:45.68 and the 400 medley relay with a time of 4:11.33. Favret participated in both winning relay efforts.
In the meet at Westminster, Gannon finished third after scoring 90 total points, while Edinboro took the cake with a score of 124 and Westminster finished second with a score of 100.
The Knights did place first in three events: the 3×100-yard backstroke relay, the 500 freestyle relay and the 400 medley.
Favret and freshman Jillian Pritchard were involved in two of the three victories.
The team's next meet will be at home at the Carneval Athletic Pavilion at 5 p.m. on Friday, Nov. 4, against Bloomsburg.
BRANDON JACES
[email protected]