Gannon community in mourning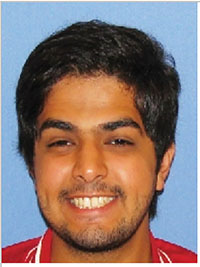 Gannon University community members have found themselves grief-stricken by the loss of a student for the fourth time in four years following the unexpected death of Mohammed Albogami, a freshman respiratory care major.
Albogami, who was a 21-year-old native of Saudi Arabia, was found Thursday afternoon inside his off-campus residence.
The Erie County Coroner's Office said the death occurred due to natural causes, but also stated that a more definitive cause will be released by the end of this week.
After learning of Albogami's death, university officials established and maintained communication with Albogami's family in Saudi Arabia, as well as with the Saudi Cultural Mission. Together, they decided that his final arrangements would take place at home in his native land.
The International Student Office and the Office of Mission and Ministry have been working in conjunction with the Saudi Student Association to offer support to Albogami's family and friends.
Grief-counseling support is being offered by the Office of Health and Counseling Services for any students who are having trouble dealing with Albogami's death. In addition, the International Student Office is coordinating outreach to Saudi students throughout the weeks ahead as the grieving process takes place.
In an attempt to show support and empathy to Albogami's family, the university had a prayer service Monday night that was followed by a buffet consisting almost exclusively of Middle-Eastern cuisine.
The service began with a blessing, a moment of silence and a prayer led by the Rev. Michael Kesicki, associate vice president for Mission and Ministry.
Kesicki said he was extremely honored that he could help to pay homage to Albogami's life through his participation in the service, and he was more than happy to be with the Saudi Student Association in friendship during its time of suffering and grief.
Kesicki's prayer was followed by a number of members of the Saudi Student Association who read passages from the Quran.
University President Keith Taylor, Ph.D., who spoke at the end of the service, offered a few thoughts on Albogami's passing.
"We've had tragedy at Gannon before and we will have tragedy again," he said. "It never gets easier and each time is very difficult, but I think the way we come together as a community when things like this happens is really amazing."
Taylor said he had the opportunity to speak with Albogami's father on the telephone – a conversation that had to be translated by two Saudi Arabian students – and although it was a very emotional discussion, he said he was taken a back by how gracious and faith-filled he remained despite the situation at hand.
   "Situations like this that are out of everyone's control are especially challenging for me as a parent," he said, "and I am very impressed with how stoic his father has remained through it all."
At the end of the day, though, Taylor said there was one important message he thought should be taken from this tragic time.
"Many members of the Gannon community are grieving and suffering a great deal," he said. "The important thing, though, is that we are all here for each other and getting through it together.
"At Gannon, all you have to do is reach out, and someone will be there to help you back up."
Those looking to offer their condolences can contact the Office of Mission and Ministry, which is sponsoring a collection in memory of Mohammed Albogami.
All donations will be used to support the Saudi student community in Erie, and will be accepted in the Mission and Ministry Office in Keim Commons during the course of the next three weeks.
CHARLES LEAR