CHESS task force sheds light on racial justice
Group is part of a larger university-wide initiative to fight racism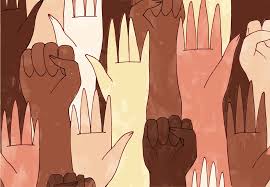 "How do you think having people from throughout the humanities lends itself to adding different perspectives to the racial justice task force?"
"I'm going to ask you to say that question again, and I'll tell you when to stop."
"How do you think having people from throughout the humanities-"
"Stop. Why do you say just the humanities and not the whole university?"
Parris Baker, Ph.D., a Gannon University professor and member of the College of Humanities, Education and Social Sciences racial justice task force, explained that CHESS's part is part of a larger initiative on campus, as racial justice happens at an institutional level.
Doug Oathout Gannon's chief of staff and director of Marketing and Communications, said it can be beneficial to have both the university task force and the CHESS-specific task force.
"In general, we believe the more open discourse there is on any topic – whether it be race or something else – the better off the university community will be," Oathout said.
Following the murder of George Floyd, CHESS Dean Lori Lindley, Ph.D., decided to put together a task force within her own college.
"We have said that our overarching goal is how we can dedicate ourselves to being an anti-racist college," Lindley said, adding that traditionally this conversation starts with the humanities.
One of the things the task force has already done is help to complete the work for creating a minor in diversity studies. Right now, the task force is looking at ways to support faculty who may be interested in looking at how to diversify their own curriculum and broaden their program. Lindley hopes to provide resources to staff, continue to have speakers on campus and to have expert input as they offer and develop welcoming spaces.
The task force intends to continue this work in the long run, as it just created a draft of its mission statement, in part, committing to "a focus on teaching, service and scholarship that challenges oppressive and unjust forces."
The task force has received feedback opposing its mission. However, those individuals have not wanted to speak on the record.
The Rev. Shawn Clerkin acknowledged this, saying, "We have colleagues and friends, students, and faculty who are afraid to represent their points of view in an academic environment, which is always about opposing points of view. This is a place where you should be able to have opposing points of view. This is a place where you should be able to peacefully protest or assert yourself but be ready for the blowback because people are always going to disagree with you."
On that same note, Clerkin mentioned some of the blowback the task force has received has come from individuals using quotes out of context of biased sources to make their point.
"That makes me also sad because it says we don't value academics, we don't value science, we don't value the data, and we here have to," Clerkin said. "We cannot dismiss sound findings."
Chris Magno, Ph.D., an associate professor in the criminal justice and environmental science and engineering departments, backed up these claims, providing statistics about coronavirus and police shootings in relation to race.
"We change the mission according to facts," said Magno.
He then referenced CDC data that shows those who are Hispanic or Latino, Non-Hispanic Black, Non-Hispanic American Indian or Alaska Native and Non-Hispanic Asian or Pacific Islander all have a higher rate of being infected, hospitalized and killed by COVID-19. At the same time, he mentioned, the rate at which Black Americans are killed by police is more than twice as high as the rate for white Americans, according to a study done by The Washington Post.
Clerkin supported this claim, saying that belief of fact is measurable, and data can be given, but a belief of opinion is not something that can be proven by data
"I think it's important that we always differentiate between what's facts and what's opinion," Clerkin said. "White privilege is a real thing. Male privilege is a real thing. Heteronormative privilege is a real thing. These are all realities and they are all propped up by systems that continue to perpetuate power."
He continued by saying the task force is not trying to dictate the university's actions. Rather, it is trying to affirm these facts and figure out how to respond to the conversation of diversity in an open and welcoming way while still facing the facts.
This is not an uncommon juxtaposition on college campuses though. Just this semester, Kent State University experienced issues of graffiti on campus portraying different racial opinions.
The issue is local as well with the Erie Times-News reporting that in September, protesters for the Black Lives Matter movement marched through the streets of Edinboro while counterprotesters stood by and held rifles in opposition. Even at the beginning of this semester, Gannon experienced issues when Zoom hackers interrupted an event about the history of racism.
Clerkin said that these issues have been polarized politically and there is very low tolerance for resistance of confirmation bias. As a whole, he said the university wants everyone to be at the table in the midst of this conversation about racism because racism is not something to be tolerated and not something to be related with a political perspective.
Despite differing viewpoints, a 2019 study from The Knight Foundation stated that 70% of college students favored a learning environment that allows all types of speech over one that places limitations on speech.
Baker emphasized that in order to dismantle systemic racism, change has to be made on two levels. The first is a microlevel that he describes as individuals. The second is institutional that looks at the broader levels of disparity. Conversations need to be had at both levels to make change though.
The task force has done part of this, creating the CHESS Speaker Series, which addresses issues on a microlevel.
This semester, the speaker series, Racial Justice: Be the Change, has covered topics such as "1619 Virginia to 16503 Erie: The Constitutional Path to Black Lives Matter," "Post Globalization: The Struggle for a Post-Pandemic Future," "From Punitive to Caring State: Defunding the Police and More Funding for Social Work," "From Slavery to Police Brutality: The History of United States Racist Policing," "Walking with Pope Francis: Encouraging Dialogue and Friendship at Gannon" and "Building an Equitable Community: A Discussion on Inclusive Programming in the Arts."
Magno said that these events are beneficial when it comes to informing the community of facts on the topic of racial injustice. Instead of people questioning the event itself, Magno said people find themselves questioning specific facts about the event – a big step from complete denial.
At an institutional level, changes are being made within curriculum with the new liberal core model as well as larger conversations happening in classrooms.
Baker said there is a multiplicity of truths to be taught, and even truth itself is not a constant, but there are ways to implement facts within the classroom.
For instance, he is often amazed that there are students who don't know about Native American history.
He also recognizes students come to school to learn their craft and may not be interested in other things, but that's when responsibility falls upon the administration, deans, faculty and staff to integrate these things.
There is a crucifix in each classroom on campus that speaks to the identity of the Catholic aspect of the university, yet most of the faculty and students are not Catholic. It does, however, speak to those who are.
In the student body 10-12% of students are Middle Eastern, but there are few symbols for them. There are flags in Waldron and a prayer room in Zurn, but other than that there are few symbols that showcase the diversity on Gannon's campus.
Baker said this plays a large part in everyday life even as students go to the cafeteria to get something to eat and they find a cheeseburger or a salad, as opposed to having a culturally specific item. Food is a large portion of a person's identity, Baker said, and the university fails to show its commitment to the entire student body when it doesn't cater to those identities.
Baker said he has students from Saudi Arabia in his classes, so as a teacher he takes the responsibility to make connections with their background as well as the other students. For example, to learn about the social welfare model, he has students compare and contrast the models from different countries. Although it takes a little extra work on the teacher's part, he believes good teachers are willing to do that.
In this way, he believes Gannon is heading in the right direction to make extensive changes.
"Globalization is incredible," Baker said, citing that Gannon used to be an all-male school before conforming to become co-ed.
Coeducation has carried on for several university presidents now, making it part of Gannon's identity, just like it's Catholic identity. Baker said it isn't until the institution holds on to changes no matter who the president is, that change occurs.
"I think we're doing that but again it's kind of segregated, but change is slow and implemental," Baker said. "What makes America great is our diversity and our ability to disagree yet remain civil."
CHLOE FORBES