Coronavirus concerns close Gannon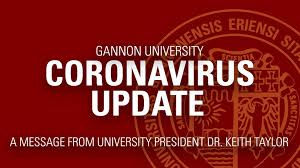 Gannon University will suspend face-to-face classes for the rest of the semester beginning Monday due to the spread of the coronavirus. Classes will resume Monday, March 23, using an alternative delivery method. 
In light of Gov. Tom Wolf's announcement to practice social distancing, university President Keith Taylor said the university made its decision with the students' best interests in mind. 
"We felt compelled with the transitions that are going on around us to move in that direction as well and to minimize the interaction among students, students and faculty, and others on campus," Taylor said. 
Faculty and instructors will be on campus Monday and Tuesday to provide students with the opportunity to meet about the transition. Students who live on campus are expected to return to their permanent residences starting Wednesday. 
"We wanted to make sure that next week we're not in a big hurry to rush everyone off campus," Taylor said. "We have a healthy environment here so we're going to take our time patiently and intentionally to purposefully go through a process to help students transition."  
Taylor said the university tried to be respectful of people's time and commitments when trying to figure out what needs to get done and make that transition. 
Impact on Education 
Taylor said that every expectation is that students will have the ability to meet learning outcomes and remain on track academically.  
Rachel Dameron, a sophomore occupational therapy major, said Friday's decision has brought a good deal of stress to her life. 
"I have a lot of labs and I am worried about studying and completing practicals from home," Dameron said. "A lot of nurses are already super stressed about clinicals." 
While the university is largely going online, faculty will be working with students to provide access to specialized settings that require labs or equipment. Nash Library and the Recreation and Wellness Center will remain open for access, especially for graduating seniors who work to complete the final requirements for their degrees. 
If students need the use of technology, ITS will be available to meet the needs of those who require devices with cameras and high-speed internet access. 
Taylor said it has been impressive to see the collaboration between faculty members to find those resources that allow teaching objectives to continue to be met. Exploring new technology allows instructors to expand upon their current courses and implement tools that students were not aware of previously. 
Instructors have been and will continue to work closely with the Center for Excellence in Teaching and Learning (CETL) to become familiar with the various programs and create a learning experience that is approved by the chair and dean of those departments. Changes and expectations of students will be updated on the class syllabus, available on Blackboard. 
Decisions have not been made regarding commencement ceremonies, but the Erie and Ruskin campuses plan to honor the accomplishments of their graduates in some fashion, Taylor said in an email to the Gannon community. 
Although unsure of what the future holds, Anne O'Neill, an associate teaching professor in the School of Communication and the Arts, said she has faith in Gannon's decisions. 
"I think Gannon has thought this out very carefully," O'Neill said. "This is an organized way for students to get the product they paid for and accommodate the current situation with the coronavirus." 
Residence Halls 
Although most students are expected to move off-campus, the residence halls will remain available to those who have personal circumstances preventing them from going home. 
"We are closing the residence halls on March 22 for the remainder of the semester, but if students have a need for whatever reason they are welcome to stay on campus," Taylor said.  
This applies to any student who feels Gannon is a safer environment than the place they would be going home to, including international students and anyone with reservations about the safety of their homes, or students who have no alternative  
If students are planning to remain on campus, they are asked to declare that intention by Friday, March 20, to Residence Life via the emergency information page sent out through email. 
Students may request a room and dining plan credit for the time not spent in university-owned residences as well as dining plans. For seniors and master's/doctoral students graduating in May, students living in university-owned residences are eligible for a pro-rated refund for time not spent on campus or using their dining plan. 
The university is currently developing a plan with Metz Dining to determine what dining services will be accessible during the closure. 
University operations 
Employees are expected to report to work as usual. Employees who feel they are at risk can arrange accommodations with their supervisor. 
Any staff member who exhibits signs of sickness will be expected to stay home and seek medical care according to the latest medical recommendations. 
Students working on campus or near campus are permitted to continue their employment on campus if they choose to. 
The university has expanded cleaning methods and will continue to follow the recommendations from the U.S. Centers for Disease Control and Prevention. 
Athletics, events and travel 
All athletic competitions have been canceled for the remainder of the spring semester, following the NCAA's announcement Thursday that called for the cancellation of all winter and spring championships effective immediately. The Pennsylvania State Athletic Conference announced Friday that all athletic competition for the remainder of the spring semester is suspended, effective immediately. 
To support the decision of social distancing, Gannon has also canceled events and activities to prevent the spread of the virus. All mid- to large-scale events are canceled until further notice, and all club and student organization activities are canceled. Certain administrative events will continue on a limited scale, including enrollment activities such as tours of the campus. 
Lori Steadman, director of the Schuster Gallery, canceled the Women in Art show in the Schuster Gallery upon hearing the announcement. 
"Everyone is in a state of panic," Steadman said. "I don't blame the school; they're just falling in line with what everyone else is doing. We live in a crazy time." 
Mercyhurst University on Friday announced it would transition from in-person classroom instruction to remote instruction beginning Monday and continuing through March 27. 
For Gannon staff and students, all travel abroad and learning trips for the spring and summer terms are suspended for the time being and are under review. Professional travel for staff and faculty will not be permitted without prior approval of a divisional vice president, and anyone returning from a Level 3 warning country is required to report via the International Travel Report form and self-quarantine for 14 days. 
Communication 
Faculty will be available to students to reach out to if there are any concerns or fear about the decision. 
"We want to make this seamless," Taylor said. "I'm sure there will some glitches, and I'm sure there will be some challenges … but it will continue to be a quality experience and students will get what they need out of it." 
As the events continue to evolve, Gannon will stay in touch with students via email and an established web page that provides all updates: https://update.gannon.edu 
Editor-in-chief Olivia Hahner contributed to this story. 
CHLOE FORBES
[email protected]