Ariana Grande's recent albums favor quantity over quality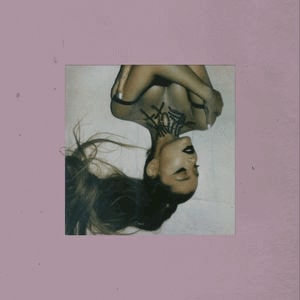 One of the biggest names in pop music, Ariana Grande, has returned relatively quickly for her fifth full-length record, and it seems to be taking people by storm, both positively and negatively.
Let's go back a few months to Aug. 17 when she dropped "sweetener," a slight step back from her 2016 project "Dangerous Women," but still a fun, romantic and light record, looking back at all the upbeat and inspirational events that come across her.
Now we have "thank u, next," a somewhat twisted record as she responds to several downward spiraling events that impacted her life both emotionally and physically (i.e. breaking it off with Pete Davidson, death of Mac Miller, etc.)
"Sweetener" saw production from Pharrell Williams, which gives a diverse set of experimental beats that kept my interests piqued, even with the subpar lyrics and style.
"Thank u, next" sees Ariana quickly grabbing her usual producers to create a rushed feeling and noncohesive record from front to back.
The record has no cohesive flow, where the first six to seven songs all sound unbearably similar with small tweaks here and there.
What keeps Grande ahead of most pop artists from a reviewing standpoint is her beat choices. She has always been able to keep her sounds and production on the more experimental side than your usual pop artist.
That idea and aesthetic is almost completely missing on this record except for the tracks "ghostin" and "make up." Sadly they both sound like B-side songs that didn't make the final cut for "sweetener."
"Make up" is this off-kilter and psychedelic sound that is filled with an abstract hip-hop beat over some alien synth chimes.
"Ghostin" has a heavy influence from Kelela's most recent record "Take Me Apart," where Grande dabbles in psychedelic, spacy and industrial R&B instrumentals with far off and personal vocal passages.
For the rest of the record, track for track, Grande feels like she is ringing it in and putting minimal effort into the lyrics, production, ideas and flow.
For example, "needy" again has a spacy beat, but falls apart almost instantly since as the songs keep moving along there is no sense of build or power.
"Bad idea" is an over-dramatic and faulty song that has too much production, too many Nicki Minaj tropes and cringy millennial back-up vocals, which then ends with overly dramatic and oddly placed orchestrated pieces that feel like an interlude, but why did this record need an interlude…it didn't.
"7 rings" is a rip-off of everyone's favorite song "My Favorite Things" by Julie Andrews in the "Sound of Music." However, it does no justice to the original since she talks about drunkenly buying seven Tiffany Co. rings over this painfully average trap beat.
Lastly, and everyone's favorite track from last year, "thank u, next." Honestly, when I first heard it, I couldn't care for the average-sounding production and overly simple concept (sounding like another complaining song ripped out of the playbook of Taylor Swift). But, the more I listen to it, the more I understand why people love it, so it gets a pass.
I could keep going on and on about each track, but we don't have the time for that, so let's get to this conclusion. What do I think of the project as a whole?
My final thoughts are it's probably her worst record to date; however, it's not as horrible as it could have been. There are still saving graces for the record, but in general it feels rushed and I'm not sure how this was rushed because no one was expecting her to release anything this quickly. She had all the time in the world to write and think through the project, especially for how "emotional" it was supposed to be.
So, I must give it a 1.8/5 and that is final.No more of that, we can have a debate in the comments over it if you like.
Happy listening, Gannon University!
ALLAN COLLINS
[email protected]