Restructuring takes place among faculty, staff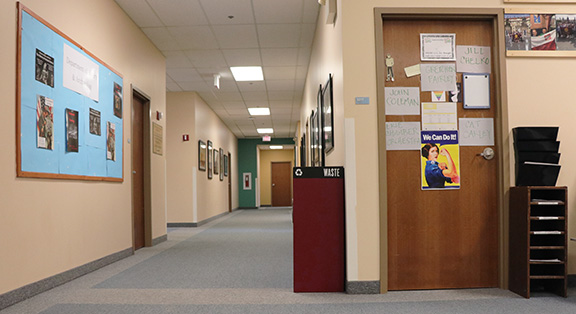 Gannon University has embarked on the task of restructuring faculty and staff positions at its Erie campus.
The restructuring resulted in the elimination of several positions last week, and soon afterward, students began voicing their disapproval while questioning the university's decision.
The university has not provided the exact number of positions that were eliminated or the names of employees who were terminated as a result of the changes.
But the departure of one employee — John Coleman, formerly of the Gannon Police and Safety office — prompted a student to launch an online petition to reinstate him. As of Tuesday, the petition had gathered some 1,200 names of students, alumni, faculty and staff.
Although the personnel changes caught many in the Gannon community by surprise, university President Keith Taylor, Ph.D., said discussions of restructuring have been ongoing for months among the president's leadership team, university deans, department heads and the Planning and Budget Committee.
The president said the restructuring process needed to be completed in order to best serve Gannon students in the long term from an organizational standpoint.
"This was about what positions on campus are necessary to be able to ensure we have the right structure and the right function to be able to deliver a quality education to students," he said.
Taylor said that the university is operating as a healthy institution. Although long-term cost benefit was considered, it was not the primary motivating factor for restructuring.
In addition, no positions were eliminated due to underperformance by staff members.
"Just because we are making adjustments doesn't mean something is wrong," he said.
Taylor said that Gannon is assisting those affected by restructuring both monetarily — via severance packages — as well as professionally as they seek to transition into new career paths.
When restructuring took effect last week, many whose positions were terminated appeared to leave their posts immediately. Students have questioned why such a change needed to occur in the middle of the semester.
Taylor said that once the solution for restructuring was determined and settled upon, the university wanted to implement it immediately rather than waiting until a new term began.
"When you know what needs to be done, you do it," Taylor said. "It's never going to be an easy time."
Although many have already left, some individuals — notably in Campus Ministry — will be continuing their work until the semester ends in May. Taylor noted that this was determined on a one-on-one basis while keeping in mind the student experience and the effects such restructuring could have on students.
Some faculty members have been reluctant to comment on the campus-wide cuts due to fear of losing their own positions in future cuts. Taylor addressed these fears with reassurance.
"We made a decision about what we were going to do with restructuring and we did it last week," he said. "There isn't a next round."
While Taylor said that students have been noticing the immediate effects of restructuring, he said the changes will ultimately impact them in a positive way.
The university has not entered a hiring freeze, and 20 positions remain open for applications on the university's website, meaning new faces will be present next fall. It was noted that none of the positons eliminated will be replaced in these open calls for applications.
Last week's decision prompted plenty of discussion on campus, and it was Coleman's departure that created a large majority of the talk. He was a friendly and well-liked figure and was known for his smile and helpful attitude.
When the news of this hit social media, Elizabeth Peterson, a senior 4+4 LECOM pre-medicine major, created an online petition to reinstate Coleman's position — a petition that has gained more than 1,200 signatures.
"Officer Coleman is a hallmark of this university," she said. "He always makes the time to interact with students and contribute to the feeling that this university is so much more than a school — it is a community and a home.
"My hopes with this petition are that we will show the university that we care about the people who contribute to our environment."
The Knight reached out for a comment from Coleman via Facebook but did not receive a response as of Tuesday.
Lexus Frazier, a 2017 Gannon graduate, signed the petition after hearing about the changes. She said she believed that Coleman was a vital part of the campus community and did not agree with his position being deemed unnecessary.
"Although I am proud to have received my undergraduate degree from Gannon, this does make me reconsider my likelihood to donate back to this school," Frazier said.
"I am disappointed in these recent changes because students truly do benefit from the amount of faculty Gannon provides access to."

KATE ROBB
[email protected]