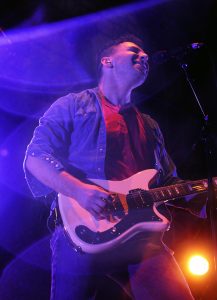 By OLIVIA BURGER
a&l editor
The cold temperature and rainy weather Friday evening didn't stop Jack Antonoff and the rest of the Bleachers crew from kicking off their tour at Artpark, located in Lewiston, N.Y.
Bleachers commenced their 26-city, Gone Now Era Tour with the picturesque New York State Park and Niagara River Gorge as their background at the historic Artpark venue.
This unique hot spot for all forms of art served as the perfect location for Bleachers considering Antonoff himself is a jack-of-all trades in the art community.
Famous for his previous role in the band Fun., and his songwriting work for stars like Lorde, Taylor Swift and Carly Rae Jepsen, Antonoff has proven himself to be a well-rounded artist with two Golden Globe Nominations and three Grammy Awards to boast.
Antonoff's most famous side project, Bleachers, recently released their second studio album titled "Gone Now" on June 2.
Bleachers opened the performance at Artpark with a dramatic rendition of the second song off the album titled "Goodmorning." Antonoff sat behind the drum set dressed in his bedazzled uniform pictured in the "Gone Now" album artwork.
Directly after the song ended, he ditched the costume and transitioned into a popular song, "Shadow," from Bleachers' first studio album, "Strange Desire."
While the entire performance could've easily turned into the "Jack Antonoff Show," Antonoff did a good job incorporating other band members and instruments into the performance.
A drum battle and saxophone-versus-guitar showdown that ended in Antonoff lying on the stage in exhaustion, allowed other band members some time to showcase their talents.
Another notable moment from the Bleachers show was the monologue Antonoff shared before playing, "Rollercoaster," the first song he wrote specifically for Bleachers.
Of course, the most electric moment of the evening came during the end of the set when the band returned for an encore of "I Wanna Get Better" and the band's current hit song, "Don't Take the Money."
Bleachers did not do anything extraordinary visually or vocally in this performance, with basic set décor and many of the songs sounding similar, but expectedly less perfect, than on the recorded tracks of the album.
Overall, Bleachers delivered an evening of feel-good music that left concert goers satisfied in their decision to stick it out and dance in the rain during the band's performance.
Bleachers' next stop on the Gone Now Era Tour will be in Atlanta at Center Stage on Thursday.
OLIVIA BURGER
[email protected]
Story continues below advertisement