International Night returns to campus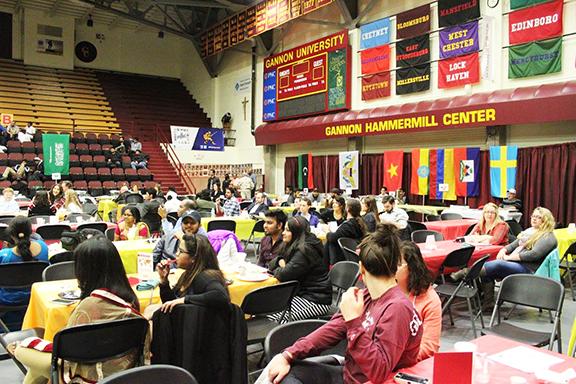 By HARLEE BOEHM
assistant news editor
Gannon University's Office of Global Support and Student Engagement and Global Unity at Gannon University (GU2) will be hosting the annual International Night at 6 p.m. Saturday in the Hammermill Center to bring light to the diversity of the campus and community.
According to Barbara Zarnick, assistant director of the Office of Global Support and Student Engagement, this event will allow students, staff, faculty and the community to share their culture in a common space.
There will be food from over 20 different countries, as well as performances by Gannon students and volunteers from the surrounding community. These performances will include singers, dancers and musicians who will share their culture through their talents.
Zarnick said that the purpose of this event is to get people from many different backgrounds together in order to learn about and experience different cultures. The goal is to allow students to see just how diverse the campus they live on is.
The theme of the event will be a "Snapshot of the World." This theme originated in the idea of the night being a way for students to get a picture of the cultures around them by being given the chance to visit different cultures easily. Students will have the opportunity to learn about different cultures through food sampling and meeting the volunteers at the event.
Zarnick said that the theme also ties in to how students see the world in a modern day.
"It also developed from the idea of social media," she said. "Everyone uses their phones to take photos, selfies, etc., so this is an excellent opportunity to travel the world without leaving campus, documenting the experience through your snapshots of the world."
Zarnick said that she hopes students will be able to take something away with them after this night of learning and engagement.
She said that the goal is for students to learn of the diversity that this campus and the Erie community have to offer. She also wants to allow students to learn why this diversity should be celebrated.
Zarnick said that she wants this event to leave students wanting more of this knowledge in the future.
"Overall, I hope that people have fun and have such a good time that they are already anticipating next year's International Night," Zarnick said.
Students and faculty are encouraged to participate in this event in order to not only expand their awareness of different cultures, but to also experience opportunities that may not have been possible otherwise.
Zarnick said that this event will allow students to experience the diversity of the area that they live in in a way they may not have appreciated before.
"I don't think many domestic students realize how diverse our global student population is and how much they can learn about the world from them," she said. "This event is an opportunity for the global community to take pride in their cultures and for the larger Gannon University and Erie communities to show their support through participation in the event."
Tickets to this event can be purchased online through gannontickets.com. Adult tickets are $14 and tickets for children over the age of 6 are $7. Tickets for college students with a valid ID are $9 and children under 6 will get in to this event for free. Tickets will not be available for purchase at the door.
HARLEE BOEHM
[email protected]