GU style sighting: Flannels
As the weather gets colder and the walks between classes become unpleasantly chilly, students start to dress differently to combat the changing climate.
Unfortunately, sometimes the clothes that keep us the warmest tend not to be the most fashionable. While puffy coats and thick scarfs will keep the cold out, they tend to make the average person look like a large marshmallow or the Michelin tire man.
Many students are now leaving the thick coats behind and starting to wear warmer tops and lighter jackets.
A popular warm top trend happens to be the flannel shirt.
Flannels are no longer just for the burly working man and grungy '90s scene looks. They are a practical and fashionable hot trend for this fall and winter season.
"As basic as this sounds, fall is my favorite season for one main reason, that being flannels," said sophomore physician assistant major Mike Coyle.
"I wish I could wear them all year round. Maybe it's my inner lumberjack coming out but flannels are just one of my favorite things to wear."
Flannels aren't just for men, however, as a lot of ladies have been rocking the flannel style around campus.
"I like wearing flannels because they are comfortable but cute at the same time," said sophomore nursing major Delaney Drushel.
Flannels are also popular because they are an easy piece to style.
The plaid prints of the shirts can easily be paired with solid-colored accessories to make for a stylish and put-together look.
Sophomore physician assistant major Dacey Wohlford is one student who likes changing up the flannel look with other articles of clothing.
"Flannels look great by themselves but when the weather gets colder I like to wear them with either a scarf, vest or cardigan," she said.
Druschel also enjoys styling her flannel shirts. "It's easy to accessorize with a scarf, necklace or even a pair of boots," she said.
Whether wearing them for comfort, as a styling piece or just simply because you like them, flannels are a great way to stay warm while staying on trend.
Consider ditching the thick coat and try bundling up with a warm flannel, cute scarf and lighter jacket on the days that the weather isn't too horrible.
To get the looks modeled by Druschel and Wohlford, look below.
By OLIVIA BURGER
[email protected]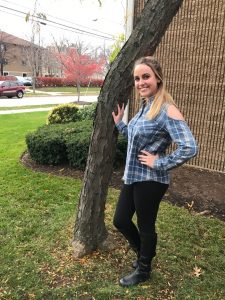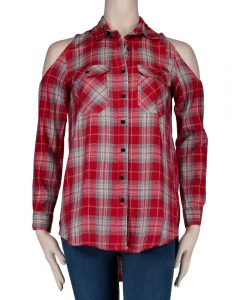 Plaid Cold Shoulder Button Front Shirt
Steinmart.com – $24.47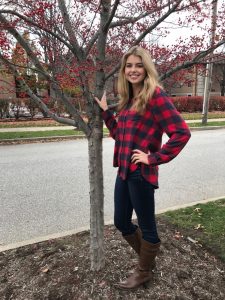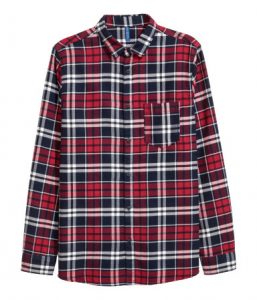 Flannel Shirt
H&M.com – $24.99