Women's golf places fourth; Munoz wins fourth title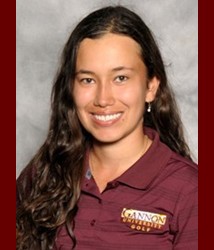 The Gannon University women's golf team headed to Exton, Pa., over the weekend for the Dr. Edwin B. Cottrell Invitational, hosted by West Chester University and Whitford Country Club for what was supposed to be some spring golf.
Of the 11 teams and 63 golfers that competed, the Knights finished fourth with Gannon junior Diana Munoz, of Ibague, Colombia, taking top individual tournament honors. It marked Munoz's third individual title of the year and fourth career title.
Her other titles include the Clarion Invitational and the Allegheny Invitational in September of 2015.
Monday's round started after the completion of the first round, which was postponed the day before due to weather.
Fellow PSAC contender Kutztown took the top spot on the team scoreboard, followed by Merrimack University, Notre Dame College, Gannon and West Chester.
At the match, Munoz totaled 158 for the 36 holes. She shot an 81 in the first round and shaved some strokes off the second round with a 77.
Hope Giordano of Kutztown finished second with a combined score of 160, Krystal Knight of Merrimack placed third at 161, Courtney Newport of Seton Hill shot 163 to take fourth and Christi Bilas of Notre Dame College finished fifth at 163.
Gannon sophomore Manuela Quevedo came in sixth with her fifth top-10 finish in eight events this season with a combined score of 166.
Other Knight golfers who placed were freshman Julia Santo, who finished 29th with a score of 182, freshman Rebecca Red Horse shot 192 for to finish 47th and sophomore Nicole Richards took 58th with a score of 220.
In addition to earning her three titles this season, Munoz has recorded five top-two finishes in eight events this year. She finished second at the PSAC championships and Ohio Valley Invitational.Coming off a solid performance, the Knights hit the links Saturday at the Mercyhurst Invitational hosted by the Lake View Country Club. Last year, Gannon won the five-team event behind Munoz's individual championship with an even-par 73.
BRANDON JACES
[email protected]