Vice President of Student Engagement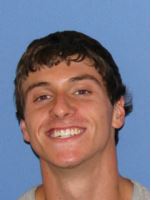 Josiah Leach
Junior
Psychology
Why are you running for Vice President of Student Engagement?
Well, I personally feel really engaged on the Gannon campus. I like to be involved in a lot of things. I like to help with big events and what's going on. Being a natural leader, I feel as though I'd be good at getting other students engaged and involved.
Previously the Vice President of Student Engagement was the Vice President of Clubs and Organizations. I plan on getting more events for the clubs and organizations to sponsor each other. If you get collaboration amongst all clubs and organizations, it just builds the whole system up.
I just want to see more engagement, see students as a whole get more engaged and active on campus, leading more and just being more involved. It's a big thing for me.
What are your goals if you were elected as the Vice President of Student Engagement?
If I was to be elected, I want to work with the future Vice President of Marketing and Communication to make a Gannon video. It'd be like an advertisement video but it would be more like 15 seconds of each athletic team doing something sweet or each club and organization doing something sweet and then compile that into one video.
My plan is to have that shown at each orientation and say, "Hey, this is what clubs and organizations are doing on campus."
This is what I'm seeing as one of the things that I really want to do, as well as bring back Unity Week amongst all types of students to try to get more engagement among students as a whole body.
Maybe hosting motivational speakers to help get students engaged because motivational speakers get kids active – they activate me. Or maybe having more events geared toward Saudi or African or any foreign students to get them more engaged with the nation students.
I want to help with Greek unity or unity amongst the athletics and mix all these students together to get them to lift each other up in a way. As far as quantitative measurements, those would be identifiable through attendance at events that I helped put on or other things like that.
What have you accomplished during your time on campus/in SGA?
I've turned into a whole new person. I was a ServeMore Sophomore and I went to Detroit and learned a lot about [the city] and the situation that it's in. That gave me a whole new perspective on life in America in big cities.
I also just led a service trip to Guatemala and that was huge. It totally gave me a new perspective on life.
At one point, I was on top of the mountain and in my perspective, on top of the world, both physically and mentally from that view. It was just phenomenal. To me that was a huge accomplishment at Gannon.
Another accomplishment is the concert that I helped put on for the freshmen at the New Student Mixer. I was on the committee for Preview GU during the summer and being able to help out on that committee and then having an opening day for my band was a great accomplishment.
I think that being the community service chairman for Pi Kappa Alpha was an accomplishment. It's helped shape me to care about others more than I care for myself and to me that's a huge accomplishment and personal growth.
I've been a junior class representative of SGA since October 2015. I went to Lead365 this past fall and SGA helped me do that – it's actually what pitched me into SGA. Lead365 was a big motivation piece for me.
Anybody I talk to that has a motivation drive, I say apply for Lead365 because you get to go down to Florida for a national leadership conference and it gives you the motivation and the drive to mark down your to-do list, start getting everything done, start leading people and start exercising your influence to make people better and give them a drive.
As far as pitching good ideas, I've done that – I'm on the Safety Committee. As a current SGA member, I'm part of the planning for Springtopia, which is a month away. I'm part of the influence that helps make that happen and help shape how that looks.
SGA has helped me get the business aspect of running an organization down. It's helped me grow personally when it comes to being professional, when it comes to me being able to present in front of people or talk in front of major audiences.
Why should the students vote for you?
I feel as though the students should vote for me because I'm active and engaged on campus and I tend to lead by example. If people want to be engaged and people don't know where to start, I'm good at directing them and telling them where to start and what steps to take so they can get the ball rolling and keep it rolling.
I also think that I'm a good motivator. I feel like I'm a really good activator. I lead by my vision and I lead by my example.
I feel as though in engagement, there is a certain energy that has to be expelled. There has to be a certain type of energy present and when I think of engagement and when I look to get people engaged, I personally feel a lot of energy and I feel like others reciprocate often.
Is there anything you'd like students to know about you?
Engagement on campus has helped me to be more self-motivated, to be more open minded, to be more confident and to get things moving in a fashion that has helped a lot of personal development, professional development and interpersonal development amongst myself and my peers.
I'm in Pi Kappa Alpha and that has been the enzyme to me being successful. An enzyme speeds up a chemical reaction; that's exactly what [Pi Kappa Alpha] has done for me.
I just want students to get hype about what they're passionate about. If there's anything that you want to do or you don't know what you want to do, just do what you love.
SAMANTHA GRISWOLD
[email protected]