Acro and Tumbling win home opener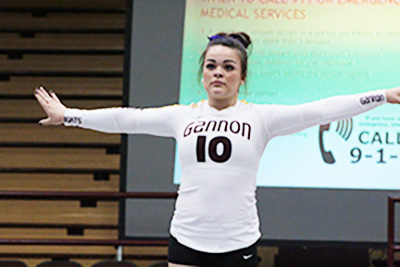 The Gannon University acrobatics and tumbling team moved to 2-0 Saturday after defeating Concordia (Wis.), 272.380-258.765, at the Hammermill Center.
This is the first time in program history that the Knights have won the first two matches of the season.
Gannon, which won 15 of 19 heats on the day, started out strong by taking the compulsory event 37.40-36.35. With the momentum of the first event, the Knights were able to take the next event, which was acro, by a score of 28.95-26.90.
The Knights then went into halftime by taking the third event, pyramid, where they scored a perfect in the flip heat.
At the half, the score was 96.20-91.45 in favor of Gannon.
The second half started with the toss event and the Knights prevailed with a score of 27.90 out of a 29.50 start value while the Falcons scored 26.85 out of 28.15.
Next up was the tumbling portion where Gannon scored 53.3 out of 55.70 and Concordia scored 49.325 out of 52 points.
The meet ended with the team event, which Gannon got 94.98 points out of 105.54 and Concordia got 91.14 out of 101.29 points.
Gannon ranks No. 9 in the National Collegiate Acrobatics & Tumbling Association (NCATA) preseason poll while Concordia is ranked No. 11.
Gannon's overall and team scores were their highest since April 5, 2014, at home against Adrian College.
Freshman Sydney Pouliopoulos had fun at her first home meet wearing Gannon colors and said she was pleased with the outcome, particularly considering that the Knights made some late adjustments.
"Our tosses and pyramids were really good despite completely changing our pyramids two days before the meet," Pouliopoulos said.
During the first pyramid heat, the Knights scored a perfect 10, which elicited some cheers from the crowd.
"Perfect 10s are hard to come by," Pouliopoulos said.
The Knights have remained perfect against Concordia after this win and last year's 258.895-233.325 victory.
In the first two meets of the season, Gannon has won 31 of 38 heats and both team routines.
Coming up next, the Knights hit the road and look to break their 0-2 record against Quinnipiac, ranked fifth in the NCATA. The meet will take place at noon Sunday.
BRANDON JACES
[email protected]