A Toss to the Top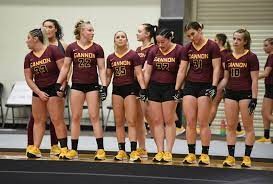 Erie, Pa., February 7, 2023—The Gannon University Acrobatic and Tumbling team is ready to start the season off with a bang. This season looks to be the best yet for the Knights, as they look to make their mark in the National Collegiate Acrobatics and Tumbling Association (NCATA).
The team is led by head coach Brandy Duren, who is stepping up to the plate as head coach for her first season at the helm of the program.
The Knights have been on the rise since Duren took over and look to take the next step forward this season. The Knights have been hard at work since the summer, preparing for what they hope is a long and successful season.
The Knights will open their season on the road when they take on Limestone University on February 4th.
Unfortunately, the team was unable to come away with a victory and had to settle for a second-place finish.
Despite the loss, it was a great showing from the team. They put up a fight against a tough opponent, and it was a close match the entire way. Gannon's acrobatic and tumbling team showed a lot of heart and determination, and it was clear that they had been training hard leading up to the event.
The team put on a great show, displaying some of the most impressive tumbling and acrobatic stunts for their first match this season.
The team then returns home for their first home meet on February 14th, when they take on the University of West Liberty in Virginia.
The Knights will look to take advantage of their home at the Hammermill Center this season, as they look to make a run at the NCATA championship. With the talented roster and experienced coaching staff, the Knights are poised for a strong showing this season. The Knights have their sights set on a championship and look to make a statement this season.
Gannon University Acrobatics and Tumbling is ready to start their season off with a bang and prove that they are one of the top teams in the nation.