Coffee connoisseur comes to Gannon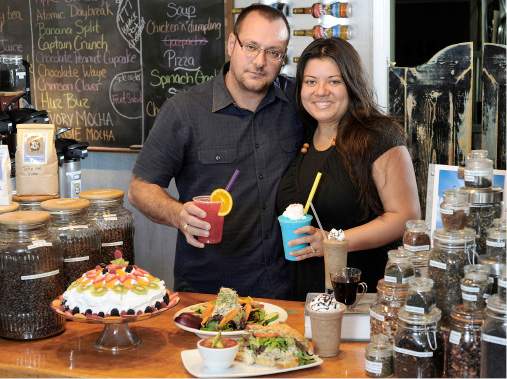 Out of the Grey Coffee has been appearing in Gannon University cafés across the campus since the start of the spring semester.
Jack Barton, owner of Out of the Grey Coffee House Café, and his family were planning on becoming missionaries until his mother got into a serious accident that brought him to Erie to care for her.
Once the ordeal was over, Barton says that the family was left wondering what they were going to do next. They decided to open a coffee house while still exhibiting their religious beliefs more than five years ago.
Today, Out of the Grey Coffee is a big hit among the students at Gannon. The Coffee, which is served in the Center for Business Ingenuity, the Waldron Campus Center and the A.J. Palumbo Academic Center, is somewhat of a safe haven for students to get their coffee fix.
Bethany Perri, a junior accounting major at Gannon, drinks Barton's coffee regularly.
"Out of the Grey Coffee is what gets me through the day at school," Perri said. "The coffee is delicious and the wide variety lets me pick something different every day."
The Erie Technology Incubator (ETI) at Gannon, a not-for-profit business incubator dedicated to stimulating the development of advanced technologies in Northwestern Pennsylvania, is a contributing factor to Out of the Grey's Success.
Barton was the 2014 ETI Accelerator winner because he had the best business pitch. For winning, he was awarded $10,000, six months free residency and coaching and strategy mentoring from the ETI.
"The ETI mentor team has been a huge help," Barton said. "I know they are always on my side. They challenge me, they guide me in the right direction, and most importantly, they want what's best for my company."
With the help of Jeffrey Parnell, head of the ETI, Barton and his company have learned to work smarter, rather than harder.
In addition to providing coffee for Gannon, Out of the Grey is in the early stages of providing coffee for Cathedral Preparatory School and Villa Maria Academy.
The company is also getting into the realm of K-cups, as well as implementing its brand in countries like New Zealand, Mexico and all across the United States.
Like Barton wrote on the company's website, outofthegreycoffee.com, the company believes that a cup of coffee is more than just a caffeine jolt; it is an experience that should be savored one sip after the next.
For students looking for a unique experience outside of the university, their coffeehouse café is located at 6990 West Lake Road in Fairview.
The café is open from 5 p.m. until midnight Thursday through Saturday. Along with various coffee drinks, teas, hot chocolate and smoothies, the café offers a wide variety of appetizers, soups, pizzas, sandwiches, salads and wraps.
Barton said that one of the notable qualities about his company is that he offers customers the chance to create their own unique coffee creations.
On the company's website, aspiring coffee connoisseurs can choose how their coffee is created, right down to the grind. Customers can also choose their roasting preference and which add-ins, like different types of chocolate, nuts, spices, fruits and other sweet ingredients they would like to be added to their creation.
When they're done, customers can name their coffee creation, which will then be available for others to purchase.
With the help of the ETI Accelerator program at Gannon, Barton's business has seen much success. Through his success, he has had the opportunity to implement his coffees into the university that guided him to his accomplishments.
AMANDA GALLANT
[email protected]
News Editor Samantha Griswold contributed to this article.