New service brings new spiritual opportunities on campus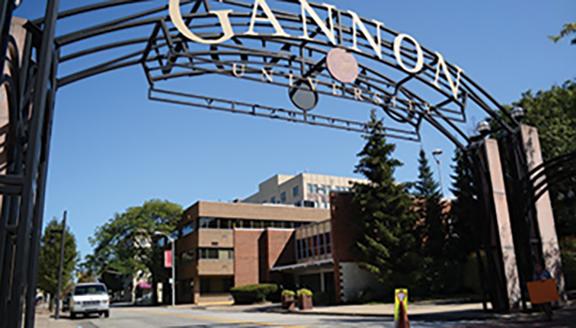 In line with Gannon University's new spiritual event series called "The Well," the next event will be held in place of community Mass at 11 a.m. Thursday. The Rev. Shawn Clerkin is the speaker for this month's event.
"The Well" is a monthly Christian worship service led by Campus Ministry for the Gannon community.
In the upcoming gathering, Clerkin will speak about people in history such as C.S. Lewis, J.R.R. Tolkien and Dorothy Day. The talk for this event is titled, "More Than an Inking of Faith: Lewis and Tolkien/Friends and Foes," and is a continuation of the By Faith It Is Done! Series.
Clerkin will speak about how the people we read about in history had their faiths challenged. The goal of this specific talk is to help the community find ways in which they can relate their own challenges with faith and life to strong people who have lived before them.
With a coffeehouse feel, music by their peers and free refreshments, "The Well" has provided an enriching experience for students of all faiths and traditions.
"The Well" is a time for students, staff and faculty to engage in lively praise and worship, dynamics talks and fellowship.
This year, "The Well" has been doing a speaking series showcasing individuals who, through their lives, have drunk deep from the well of living water and have shown extraordinary faith.
The first gathering took place in September. Christopher Beran, the resident coordinator of the Bishop Trautman House, spoke at the first gathering about what it means to have faith.
A new speaker is invited each month and students are welcome to participate and are encouraged to use it as a way to connect with the campus in a way that they may have not been able to experience before.
These events give students the opportunity to hear their administrators and teachers express faith in a way that they do not experience inside of the classroom on a regular basis.
The Campus Ministry staff created "The Well" to feel more informal, like a coffeehouse, with hopes to appeal to a more diverse variety of students.
They believe that they have created the event so that it will be more organic than if they were to offer a program.
Delray Davis, the campus minister of Wehrle Hall and creator of the event, said that "The Well" is an ecumenical service. It is open to all faiths as a way to connect everyone, not just those of the Christian faith.
Hayley Woebse, a freshman nursing major, said that she thinks that the upcoming session of "The Well" will be a very exciting event.
"I think it is a nice nondenominational faith experience for all of the students at Gannon," Woebse said. "[It is] a great time to connect with your peers on a different level."
Woebse said she plans to attend this event in order to connect with the campus and discover other students' faiths.
The event is free and will feature music performed by students and free refreshments. All students are welcome and encouraged to attend.
HARLEE BOEHM
[email protected]