Gannon to reorganize administrative roles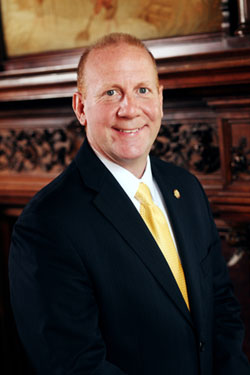 After Carolynn Masters, Ph.D., Gannon University's provost and vice president of academic affairs, resigned Wednesday, President Keith Taylor, Ph.D., said the change provoked a need to review the existing structure of academic roles.
The result of the review is a proposed administration restructuring, which is scheduled to be presented to the Board of Trustees Friday.
"Any time there's a change, we always should take a step back and ask how we should look at things differently," Taylor said.
Taylor said Wednesday's events were almost like the birth of a child, as the university is still trying to know every little piece of information.
He said the most important thing right now is that Masters is supported in her decision so that she will be able to return to Gannon when she's ready.
"We need a little air to come in and out of the lungs before we reach the next steps," Taylor said.
Taylor said the current positions will be looked at and possibly revised, but the changes will not affect faculty directly because they will still report to the university deans and president of academic affairs.
He also said the current academic structure serves Gannon well, but any good organization steps back and evaluates where it is after a major change.
Taylor said the plan is to look at form following function and the best way to fill roles in the academic structure.
He said Gannon is very focused on a strategic plan with goals for successful students and the next step for business is to look at its structure.
"Big decisions need to be made with thorough thought," Taylor said, referring to the faculty board meeting scheduled to take place Friday.
Steven Mauro, Ph.D., dean of Morosky College of Health Professions and Sciences, began serving as interim provost and vice president of academic affairs Monday.
Kris Legters will be serving as Morosky's interim dean.
Mauro said his experience working with students and faculty and on projects like developing the public health major as the dean of Morosky made it easier for a seamless transition to take place.
Mauro said Gannon has a tremendous amount of things happening and he has been here to see them happen and move academic priorities along.
"We want to continue to grow [these priorities] and realize the intent of Dr. Masters," Mauro said.
Taylor said the university is confident in Mauro's stepping up because he has already done great work in developing the Florida campus, building research labs and being involved in other big things that have happened over the past several years.
Mauro said serving at a faith-based institution like Gannon helped him accept the new position.
"When you're called to action, you step up and do what's needed for the team," Mauro said.
Linda Fleming, Ph.D., dean of the College of Humanities, Education and Social Sciences, said in an email to faculty she will remain in her position for the foreseeable future.
She said the university plans to create two vice president positions in place of the provost position, but she will not apply for either one.
Taylor said that the review of the university's administrative structure came into question with the combination of Masters' resignation and the pre-existing plan for Kathleen Kingston, Ph. D., to transition out of the associate provost role in June of 2016 and to retire the following year.
KELSEY GHERING