Ruskin campus flourishes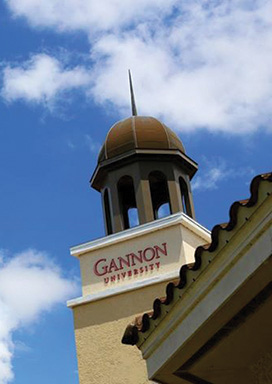 Gannon University's campus in Ruskin, Fla., has been thriving as the inaugural class continues with its education and begins classes on campus.
Last October, Gannon announced that it would be expanding its domestic reach and opening a branch campus in Ruskin.
Construction on the campus began in April and was set to be completed in July. The inaugural class of students in the occupational therapy doctorate (OTD) program had already begun an online portion of their program at the time of completion.
On Aug. 19, the Ruskin campus was formally opened with a blessing and dedication ceremony. Classes on campus began in the fall for the 24 students in the inaugural class of the OTD program.
Desi Herter, enrollment adviser and recruiter in Ruskin, said that the transition to a new campus has gone very well for not only the students, but for the faculty and administration as well.
"We are all transitioned into our roles and are getting into the routine well," Herter said. "We've only really experienced minor glitches throughout the process."
The campus currently only offers the OTD program, but there are plans to offer a physical therapy doctorate program and a master's in athletic training program once the proper accreditation is obtained.
Anna Lacy, a freshman occupational therapy major, is excited about the new campus in Ruskin and the opportunities it offers occupational therapy students like her.
"It's great to see that Gannon is expanding," Lacy said. "The new campus will provide numerous opportunities for OT students to grow in their education."
Herter said that community involvement is a very important aspect of life on the Ruskin campus.
"Students are currently working on a project where they are writing patient scripts and describing what is going on with their particular patient," Herter said. "Next we're going to be bringing in some actors to play the patients."
These actors all come from the various senior citizen centers in the surrounding area, emphasizing the importance of community involvement.
Gannon plans to continue this particular aspect of the curriculum for each new class of students.
Students, faculty, staff and administration also participated in GIVE Day at Camp Bayou, located just a few minutes from the Ruskin campus.
Herter said that despite being located in Florida, the Ruskin campus is still very much connected to its roots in Erie.
"We are trying to keep the essence of campus alive down here in Florida," Herter said.
"That's something I think is really important for the people in Erie to know."
LYDIA FENNESSY