New faculty in abundance at Gannon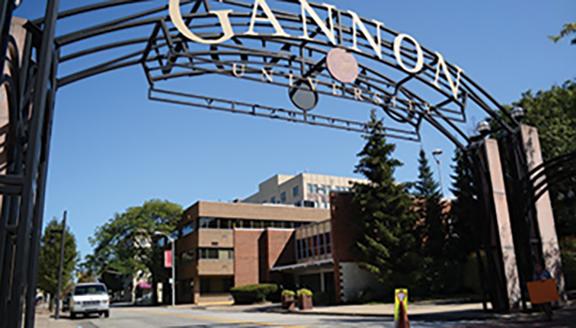 The number of new faculty members at Gannon University for the 2015-2016 academic year totals 24 members, a remarkably high number compared to years past.
Phillip Kelly, who holds a doctorate of arts in English and is a professor in the English department, is the director of new faculty mentoring for the university.
Kelly has been in the position for the past 10 years and said that this year's new faculty has reported good experiences so far.
"[I think] it's a testimony to the fact that Gannon does a good job of hiring employees," Kelly said. "We're getting good applicants and we're managing them well."
Kelly said that the increased number of new faculty is likely related to two factors, one of them being an increasing number of retirements as of late.
One of the new faculty members, Matt McKeague, Ph. D., is a visitng professor in The School of Communication and the Arts who took the place of Brent Sleasman, Ph. D.
Alexa Tribuzio, a senior advertising communication major, said she really enjoys McKeague's class.
"His media ethics class isn't a typical lecture course," Tribuzio said. "His lectures are interactive and he likes to engage students in open discussions.
"They help make class interesting and fun and they also help us apply what we're learning."
Another factor, Kelly said, is the introduction of new programs to Gannon's curriculum.
For example, the new campus opening in Ruskin, Fla., required Gannon to hire all new faculty members for the facility.
The new faculty mentoring program is designed to do two things. It aims to allow new faculty members to socialize with one another and also to immerse them in Gannon's culture and everything Gannon has to offer.
Kelly said he gets all of the new faculty members together in August before classes start and has a full-day workshop with them, to get them acquainted.
Kelly said that one of the problems that new faculty face is what is called social isolation.
New faculty often get immersed into their work and leave little time for interaction with others on campus, which is an important part of assimilating to campus.
Kelly said he conducts his program in a way that encourages new faculty to interact with others in the Gannon community.
The second stem, Kelly said, is that the program aims to educate the faculty on recognizing what Gannon is all about and what is involved in becoming a fully integrated member of the faculty.
Kelly said a number of high academic expectations are in place at Gannon with regard to scholarship and research and that he also helps the faculty to recognize what those expectations are and the resources that the university has available.
"One of the things that I tell new faculty is that this program will benefit them and the university," Kelly said. "But I have to tell you, I think I'm the one who benefits the most."
Kelly said he enjoys meeting each new faculty member who comes to Gannon.
"I know all of the new faculty [members] from the last 10 years," Kelly said. "That's a unique opportunity. I don't know if there's anybody else at the university that has worked with every new faculty member like that.
"I love doing [this job]," Kelly said. "It's been a joy working with the new faculty."
SAMANTHA GRISWOLD