Gannon named best value school for 10th consecutive year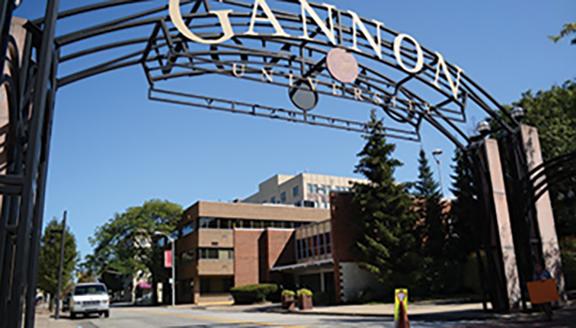 Gannon University has been named to the Great Schools, Great Prices list in the U.S News and World Report's 2016 Edition of America's Best Colleges for the 10th consecutive year.
Gannon is ranked ninth among all universities in the northern region of the United States and is the only school in Western Pennsylvania to make the list.
The Great Schools, Great Prices list looks at several determining factors about each university that makes the list, including the university's quality of education, which is determined by GPA, test scores and rate of retention, among other factors.
It also considers the actual cost of attendance from the previous academic year for a student who received an average level of need-based financial aid. Only schools positioned high on the U.S News and World Report's overall ranking of America's Best Colleges are even considered for the list.
William R. Edmondson, vice president of enrollment, emphasized that Gannon has always striven to supply the highest quality of education to its students at an affordable price.
Gannon University founder, Archbishop John Mark Gannon, wanted to provide an education to the men of Erie who might not have otherwise been able to afford schooling beyond high school.
"That's part of our mission, and it's still something that we try to do every day," Edmondson said.
Edmondson said that attaining such a ranking for 10 consecutive years is not an easy task for any university and was achieved by "walking a tightrope." Universities must strike a balance between the cost of providing a quality education to students and the amount of money that students and families can actually afford to put toward an education.
"It would be a lot easier to provide quality education if you didn't have to worry about cost," Edmondson said. "And if you didn't worry about academic quality, it would be a lot easier to manage price."
Gannon's commitment to keeping educational quality high while still maintaining its affordability is what makes them stand out among other universities in the region. Gannon has both a competitive scholarship program and a strong need-based aid program to ensure that anyone who wants to come to Gannon is able to afford it.
Gannon President Keith Taylor, Ph.D. further emphasizes the university's mission of quality, affordable education.
"Gannon University is moving forward with innovative, student-centered education that is within the financial and academic reach of every student and family in our region and beyond," Taylor said.
"Ten years of recognition by U.S News and World Report's Great Schools, Great Prices, affirms our commitment and focus on delivering more value to students."
In addition to its ninth place ranking on the Great Schools, Great Prices list, Gannon was ranked 58th in U.S News and World Report's Best Regional Universities in the north and named to the list of Best Colleges for Veterans.
LYDIA FENNESSY
[email protected]