Fifth Gannon coach resigns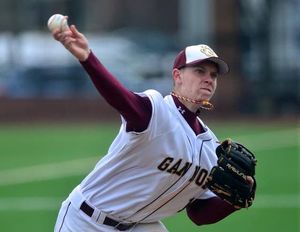 For the fifth time since May, another Gannon University athletic coach has resigned.
This time it comes from the baseball program.
Head coach Nate Cocolin has stepped down to become an assistant coach at Division I Western Carolina University.
Greg Coleman, an assistant at Gannon for eight seasons, has been named the interim coach as Gannon searches for yet another head coach.
The athletic department is currently in the process of interviewing candidates for the water polo position and is still searching for a women's golf coach.
Earlier in the summer, the university hired a new women's lacrosse coach in Kerry O'Donnell, and Dale White was chosen as the men's soccer coach in May.
Cocolin spent the last eight seasons at the helm for the Golden Knights, turning a struggling program into a PSAC contender.
Cocolin was named the 2012 PSAC Coach of the Year and guided the Knights to a PSAC divisional title the following year.
Cocolin arrived in the summer of 2007, taking over a team that went 5-43 the previous season. Gannon had 22 straight losing seasons prior to Cocolin's arrival.
In 2013, the Knights went 24-19 overall and captured their first divisional crown. Gannon reached double digits in PSAC wins three straight seasons from 2012 to 2014 and twice won at least 24 games during that stretch.
Cocolin said he leaves Gannon – and his hometown of Erie – with mixed emotions. "Although I will miss working with the student-athletes within the baseball program and the relationships I have built because of it, I'm excited to begin this new chapter of my coaching career," Cocolin said.
While at Gannon, Cocolin coached Aaron Cox, who became the fourth Knight in program history to be selected during the Major League Baseball Draft. Cox was picked in the 19th round by the Los Angeles Angels of Anaheim in June.
Cox, after a bit of a rough start, has compiled a 2-0 record with a 2.74 ERA in 15 appearances with the Orem Owlz of the short-season Class A Pioneer League.
Cox has allowed 19 hits in 23 innings while striking out 17 and walking seven.
DOMINIC SANSONE