MLB's Angels draft Gannon pitcher Cox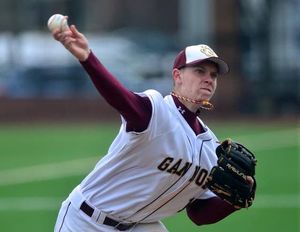 Gannon University's Aaron Cox has had a stellar career on the baseball diamond for the Golden Knights, collecting honors that include the 2013 PSAC Western Division Freshman of the Year award and three times gaining all-region selection recognition.
Now he can add Major League Baseball draftee to his resume.
The Dorchester, N.J., native was selected in the 19th round by the Los Angeles Angels during the MLB Draft on Wednesday.
Cox joins John Boyles (New York Mets), Larry Potash (New York Mets) and Richard Carsetto (Philadelphia Phillies) as the fourth Knight to be selected in the first-year player draft.
Steve Grilli, is the lone Knight to play at the Major League level. Grilli played three seasons (1975-77) for the Detroit Tigers, before spending the 1979 campaign with the Toronto Blue Jays.
If Cox ultimately signs with the Angels, he would recognize a most familiar face.
Mike Trout, the team's franchise player, is the boyfriend of Cox's sister, Jessica.
Trout and Cox's sister have dated since Trout's sophomore year of high school.
Cox, who just completed his junior year at Gannon, batted .316, with eight home runs and 32 RBIs in 44 games this past season. He compiled a .624 slugging percentage and .389 on-base percentage.
On the mound this season, the 6-foot-3 right-hander went 5-5 for the Knights with a 3.74 ERA.
He threw five complete games, including two shutouts, and he opened his season by no-hitting Limestone in a 4-0 Gannon win. He struck out 10 and walked none and faced just one batter above the minimum, hitting a batter in the fifth inning.
Cox struck out 81 hitters in 65 innings, tying his freshman total, which is second-most in school history. He established the school record of 89 strikeouts during his sophomore season.
In 2015, Cox ranked third among PSAC players in strikeouts per nine innings (11.22), fourth in complete games (four) and sixth in WHIP (1.22). At the plate, he ranked fourth in triples per game (0.09), 14th in slugging percentage and 15th in home runs.
Cox ended his junior campaign third all-time at Gannon in home runs (15), 12th in RBIs (72), 12th in triples (five).
DOMINIC SANSONE