Professor donates generously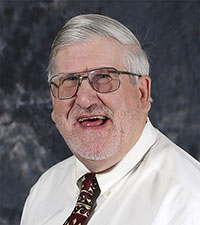 It isn't uncommon for Gannon University to receive a generous donation from an alumnus or community member, but being given a $1 million donation as a gift from one of its distinguished professors is historic.
David J. Gustafson, a biology professor and a 1968 Gannon graduate, donated $1 million to a place he and his family have called home for over 50 years.
The donation will be used to establish the David J. Gustafson Biology Scholarship Endowment Fund, the David J. Gustafson Undergraduate Biology Student Research Endowment Fund and the Carolyn A. Gustafson Endowed Scholarship in Nursing.
Gustafson said donating the money to honor the memory of his sister, Carolyn, who died last year and his family's legacy with Gannon was an easy decision.
"My family has been associated with Gannon for many, many years," Gustafson said. "The time I have spent here at Gannon has been a precious experience, and it was natural for me to give back."
Carolyn Gustafson graduated from Villa Maria in 1969 with her Bachelor of Science degree in Nursing and later earned her master's degree in Family Ecology from the University of Akron in 1980.
She was an Erie native and had an extensive nursing resume including being the director of nursing for the Summit County Health department in Stow, Ohio, head nurse for medical – surgical units at Erie Osteopathic Hospital and adjunct professor for Case Western Reserve University, Kent State University and the University of Akron.
David Gustafson earned his Bachelor of Science degree in Biological Sciences in 1968 from Gannon and earned his Master of Education degree in Natural Sciences/Biology In 1970. He began his teaching career at Villa Maria College in 1971 as director and assistant professor of biology.
He said the mission at Villa Maria made him feel honored to have had the opportunity to teach there.
"With it being an all-girls school during the time period when women weren't seen equal to men, having the chance to teach and work with those bright young women was a memorable experience to me," Gustafson said.
He later came to Gannon and served many roles over the years including chairman of the biology department.
Elizabeth Lorenc, a senior physician assistant major, said it is evident that he is passionate about Gannon.
"He genuinely cares about his students," Lorenc said. "His donation just exemplifies how much he loves Gannon."
In 1999, Gustafson was the recipient of the Distinguished Faculty Award and in 2014 he was given the Bishop Persico "Veritas in Caritate" Award for exemplifying faith, hope and love both in and out of the Gannon community.
"Gannon being a Catholic university is very important to me," Gustafson said. "It is one of the reasons I donated the money."
Gustafson and his family have been connected to Gannon and the Erie community for decades, and he said his sister wanted nothing more than give the students at Gannon a chance to earn a guided education.
He said she had been fighting cancer for over 40 years and every day she was a survivor.
"With all the pain she was in you never saw her quit or stop fighting," Gustafson said. "She was a survivor and every day she continued to be upbeat. Last year it was tough to say goodbye to Carolyn, but the last thing she said to me was to help.
"She told me to help the students at Gannon who need help financially get the money they need to earn a valuable and guided education. Donating the money to Gannon was an easy choice – it was something my sister and I both agreed upon."
A.J. Miceli, director of the school of communication and the arts and assistant professor for communication and the arts, said Gustafson is a humble man and his whole life has been dedicated to teaching.
"In my opinion, he is a mensch and by that I mean a man with integrity and honor," Miceli said. "His gift is a gesture of belief in the heart of Gannon and what it means to our students."
This scholarship will help support 413 deserving students from diverse locations and backgrounds and financial circumstances annually.
Gustafson said his time at Gannon from the moment he stepped foot on campus, to graduation and even now has changed and shaped him throughout his life.
"Looking back at the time I spent with Gannon during my undergraduate degree I can see that Gannon guided me to where I am today," Gustafson said. "I know Carolyn had the same passion as me and felt that Gannon provides an education that will develop you into a successful member of society.
"This donation isn't only to help the Gannon students in need of financial support; it is meant to give students the opportunity to learn in an environment where they are supported every step of the way."
BECKY HILKER