Guest speaker talks police and media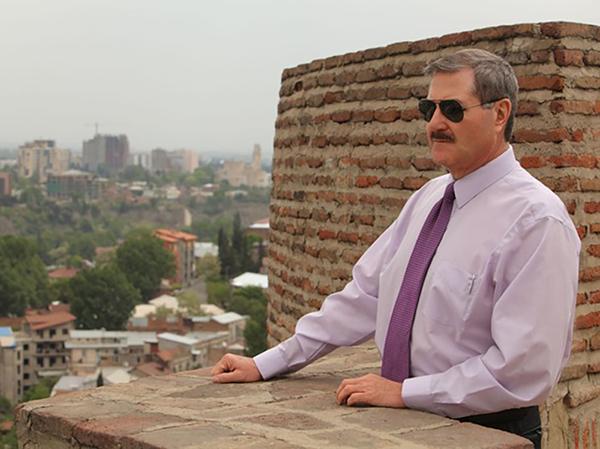 Gannon University's criminal justice program held a lecture on "Law Enforcement Professionalism and the Media" in the Yehl Ballroom in the Waldron Campus Center Monday.
Tom Fuentes was the guest speaker and is a former FBI assistant director, a CNN contributor and the president of Fuentes International LLC, a consulting firm based in Washington, D.C. Fuentes said he worked as a city police officer for six years as well, which has given him a better perspective on issues society is still dealing with.
He explained how the information flow between the media and law enforcement is so unorganized because of the country's separated design. There are 18,000 different police stations in the country because the founding fathers were concerned about tyranny in the justice system.
"There is more to the world of law enforcement than law enforcement," Fuentes said.
He explained this concept by talking about the risks law enforcement officers take, the specific improvements needed in training and the importance of officers portrayed by the media.
"Many professions are dangerous, but there are very few jobs where someone will take your life on purpose," Fuentes said. "I was told in training that officers don't worry about the bullet with your name on it, but the one addressed to 'whom it may concern' – and that might be you.
"The dark side of humanity that law enforcement officers see regularly makes it hard to maintain empathy. How long can you keep your humanity before you start becoming a little savage or cynical?
"One of the reasons policing is so stressful is the war only lasts as long as your shift. Then you go back home to your family."
Fuentes said officer psychology and mental health need more attention than the subjects get. He also spoke about how employment needs to be more selective.
Forty percent of people applying for law enforcement are more likely to have sociopath tendencies and are power hungry, he said.
"We need more testing before putting officers out on the street," Fuentes said. "The best answer is to keep people who don't belong in the force in the first place out of the uniform. Training and selection should be at the highest level."
Fuentes gave an example of the proposed solution of community police officers, which illustrated the reality of the poverty cycle and how the criminal justice system fits in.
He talked about 19 – to 24-year-olds who can't get jobs because society didn't help or educate them, so the solution becomes letting the police "take care of them."
"The prison system houses them at best," Fuentes said. "It prepares for a higher level of crime and they have no chance in society when we rely on the police to take care of the problem."
Kayla Telego, a junior criminal justice major, said she attended the lecture for class.
"I'm glad I went," Telego said. "He gave a lot of people a good understanding of the issues law enforcement deal with."
Fuentes also pointed out that the court system is often biased based on matters of money. Fuentes said people who can afford the best attorneys don't end up in jail.
He used his broadcasting experience at CNN to talk about the importance of remaining objective in the media.
"What's good for viewers is not always true," Fuentes said. "Journalists need to be more diligent in trying to get the rest of the story by questioning witnesses.
"Getting writers to turn the iceberg and making anchors and witnesses less accusatory takes a lot. You need to have a questioning, analytical and skeptical mind."
He talked about how officers are trained not to come up with their own theory immediately at the crime scene because it isn't proven.
"You can't build up the case in your mind your way," Fuentes said.
"The media and witnesses do it."
KELSEY GHERING