'Be a Hero' run set for Saturday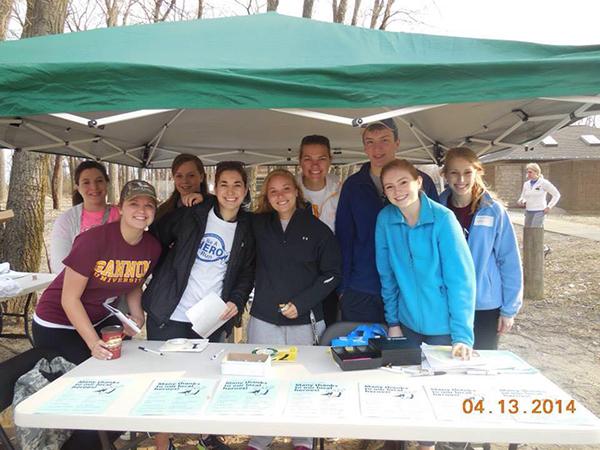 The second annual Be a Hero Run held by the Child Abuse Prevention Task Force and supported by Gannon University's Student Pennsylvania State Education Association (SPSEA) is set to take place Sunday on Beach 1 at Presque Isle State Park.
This race is held each year to raise awareness about the prevention of child abuse and this year the theme for the race is superheroes.
Participants have the option of a 5K run, which will begin at 8:30 a.m. or the 2K run/walk beginning at 9:30 a.m. and are encouraged to dress in their favorite superhero costume.
Breanne Kennelty, a junior early childhood and special education major, said the Child Abuse Prevention Task Force did a great job at picking a fun and relevant theme of superheroes for the event.
"Our motto is, 'We all can be a hero to a child,'" Kennelty said. "Basically anyone can be a hero in a child's life by standing up for them and preventing them from being abused."
Kennelty said while it's a fun event where people can dress up and win prizes, the main focus is raising awareness for the innocent children who are abused each year. The goal is to prevent the abuse from happening in the first place, she said.
The Child Abuse Prevention Task Force is composed of a variety of faculty and students from nursing, social work, physician assistant and education programs, as well as people from social service agencies in Erie.
Kennelty said it is the task force's mission to spread the word about child abuse prevention.
"Not only is it important to know the warning signs of child abuse, we need to know how it can be prevented to protect the innocent lives of the victims – children," Kennelty said.
Emily Nottingham, a junior respiratory care major and a Be a Hero runner, said she loves participating in the run.
"I had so much fun getting to dress up as a superhero with my friends," Nottingham said. "It raised awareness for such a good cause and I was so excited to be a part of something like that."
Kelli Ferko, a Be a Hero volunteer, said she can't wait to see what the turnout for this year's race will be like.
"It was great to see so many people become involved in such a worthwhile cause, both by dressing up as superheroes and participating in the race," Ferko said. "We are hoping to have an even better turnout this year and are looking forward to seeing what costumes participants have in store."
Kennelty said that the event will also be awarding prizes to the participant with the best costume and the largest Gannon group in attendance.
Registration for the Be a Hero run can be found online at www.bigwhitetrailer.com/register.
"All the support helps us spread awareness for this important cause," Kennelty said.
"We all have the ability to Be a Hero to a child."
BECKY HILKER