Volodymyr Zelenskyy—A man with the weight of a nation on his back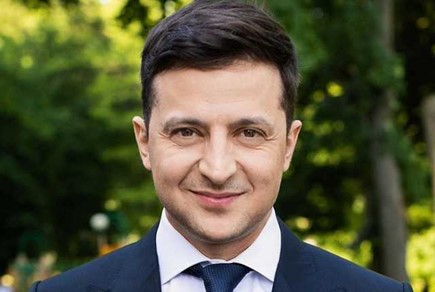 Dec 4, 2022, 11:59 p.m. EST, Erie Pa.—On February 24, Russian forces made their way into Ukrainian territory initiating war. The battle had been holding steady, with Russia having the upper hand, possessing a bigger military, and countless weapons. At the start, Ukraine did not seem to stand a chance against the powerhouse Russian regime. Putin and his men had made significant advancements into the country and sieged much of Ukraine's eastern border. But recently, the tables have started to turn.
Ukraine, while only being about the size of Texas and having around a third of the population of Russia, has been making significant progress. Since April, Ukraine has been successively taking back their land, and pushing out the Russian troops. With this great surge of power emitting from this small nation, one could only ponder: who is this incredible force guiding the Ukrainians to such enormous victories? His name is Volodymyr Zelenskyy.
Volodymyr Zelenskyy was born to Jewish parents Oleksandr and Rimma Zelenskyy in Kryvyi Rih, Ukraine on January 25, 1975. In 2000, Zelenskyy graduated from Kyiv National Economic University with a degree in law. During his time as a student, Zelenskyy fell in love with theatre, which he chose to pursue professionally, putting his education in law on the back burner. Zelenskyy is married to Olena Zelenska, with whom he shares two children— a daughter Oleksandra, and son Kyrylo.
Zelenskyy rose to fame during his time as an actor, performer, and script writer, with his performance group, Kvartal 95 ("Quarter 95"), named after the neighborhood in Kryvyi Rih where Zelenskyy grew up. Later, he helped create a multi-million-dollar production company named Studio Kvartal 95, that would go on to become one of Ukraine's most successful entertainment studios. In 2019, he stepped down from his duties at the production company to run for presidential office, which he would win with landslide margins.
Most political figures have their fair share of criticisms, and Zelenskyy is no exception.  At the beginning of his presidency, he was unpopular due to his political inexperience. Recently, most press has been positive, with many praising Zelenskyy's valiant efforts in the war with Russia. "He's as artful as they come in helping people focus not on him but on Ukraine, the disaster that it is going through, and the solutions that many countries ought to be following in coming to Ukraine's aid," said Michael Useem, management professor emeritus at Wharton School of the University of Pennsylvania in an article written by Angie Basiouny for Knowledge at Wharton.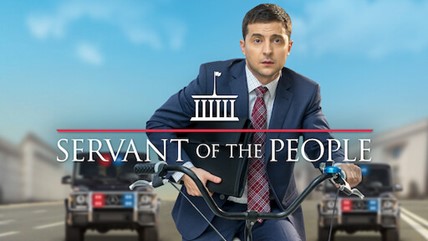 During his career as an actor, Zelenskyy starred in the 2015 political satire show, "Servant of the People", produced by Studio Kvartal 95. The protagonist of the show, Vasily Petrovych Goloborodko, a high school history teacher, suddenly becomes the President of Ukraine after a student uploads a viral video of Goloborodko's political rant. The show got a lot of attention from the press and had some saying the show foreshadowed Zelenskyy's future presidency.
"Basically, the plot of the show is what happened." stated Jeffery H. Bloodworth, Co-Director of the School of Public Service & Global Affairs (PSGA) and a professor of history at Gannon University, in a sit-down interview. "He's an extraordinarily, unlikely, political leader."
In Bloodworth's description of Ukrainian President, he says: "He's funny, he's resolute, he's giving the middle finger to a totally horrible regime that invades its neighbors constantly," Bloodworth continued saying: "They (Ukraine) have punched the bully in the nose…I would say, in the war, they're in good hands."
In an interview with Mary Louise Kelly from NPR, Julia Mendel, journalist, author of "The Fight of Our Lives" and a former press secretary for Ukrainian President Volodymyr Zelensky, we get a closer look at the current President of Ukraine. Mendel recounted what it was like working firsthand with Zelenskyy saying that he "always was giving me the voice, was asking what I think. He was listening to me, and in that way, he was making me equal."
Volodymyr Zelenskyy has proven himself to be a symbol of bravery, strength, and resilience in the face of adversity. Throughout the war, Zelenskyy has demonstrated himself and Ukraine as a united force to be reckoned with. He has played the role of a good guy who wants a better future for country.  Zelenskyy stated in an interview with The Washington Post, "I am not a politician. I am just an ordinary person who has come to break down this system."
Today, the Russia-Ukraine war is still in full swing. Ukraine is still executing win after win over Russia. Going forward, Zelenskyy says he has no plans of backing down anytime soon, despite threats thrown his way from Russian leader Vladimir Putin. This war has named Zelenskyy an international war hero. Volodymyr Zelenskyy has made his mark in history as leader who not only serve his people, but also will fight alongside them.