Students channel creativity, passion in small businesses
Several Gannon students became young entrepreneurs amid the pandemic
The COVID-19 pandemic has made it significantly more difficult to run a small business. Despite this, many small businesses are fighting to not only survive, but thrive. Gannon student-run small businesses are no exception.
Clare Davis, a senior nursing major, runs a photography business (@clares.photos on Instagram). She does shoots for a variety of occasions, ranging from engagements to graduations, teams and families. Davis took up photography three years ago, and in 2019, after urging from friends and family, a small business was born.
"After doing multiple shoots just for fun, some of my loved ones encouraged me to advertise myself and start setting up shoots for a profit," Davis said. "I started learning more about portrait photography and practicing as much as I could with friends and family, and since then I have mainly been shooting portraits and trying to book more opportunities with other people."
For Davis, the most rewarding part of running a photography business is seeing her creative vision come to life through her clients.
"I do what I do to have an outlet to creatively express myself," Davis said. "It is much harder to bring creative ideas to life than it seems, but the challenge is part of the fun and beauty of being a photographer."
Davis hopes to continue running her small business as a side hustle, even after she begins her career in nursing.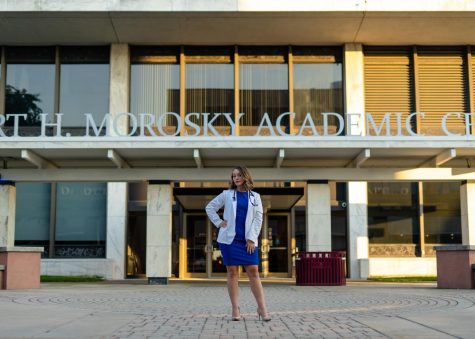 Keefer Gregoire, a senior electrical engineering major, also runs a photography business. He not only takes photos, but spends time editing them after the shoot.
"Anytime I go somewhere where I think there might be an opportunity for photos, I always bring a camera," Gregoire said.
Gregoire first bought a camera with the intention of making YouTube videos, but eventually he started exploring photography. He started taking photos in November as a way to stay busy as the fall semester was ending and has progressed in his craft since then.
"I don't see myself ever putting down a camera," Gregoire said. "I see it as a good way to give back, and I really hope…I continue to fuel this hobby while I work my main job."
The most valuable thing to Gregoire is when people enjoy the photos he takes. Gregoire said it is incredibly fulfilling to see a photo he has taken that is shared on social media.
"I get to present people I know and love in the best possible light," Gregoire said. "They like the photos, and there's also the social proof that other people like them, which is just making sure that I'm going in the right direction."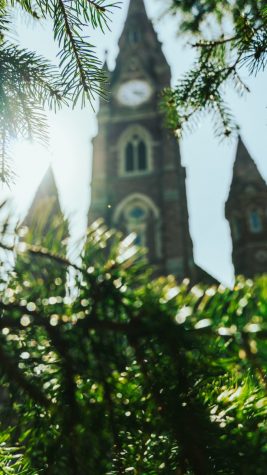 Julia Tush, a junior nursing major, runs a thrifting and upcycling page on Instagram, named @snip.and.tuck. Tush began her page because of her love for fashion and thrifting.
"My mom and I would go to the thrift store all the time when I was younger, and I took advantage of all the racks and their potential," Tush said. "I also love to sew and incorporating handmade or upcycled pieces always makes me so happy."
Tush sells to those who want to expand their wardrobe but don't want to buy fast fashion. She strives to ensure that the pieces she sells are both unique and affordable.
"In today's world, I have always seen resellers sell their pieces at a very high price, and my goal was to make it reasonable to buy amazing second-hand items and not break the bank, while also paying myself for my time," Tush said. "Not only is it helping the environment by recycling items, but they are also one-of-a-kind."
Tush appreciates the opportunity she has to make a profit off one of her favorite hobbies. She also finds it rewarding to see secondhand clothes get another life.
"I do it because I love all the steps involved, from shopping for the items to upcycling, to taking photos and posting, to communicating with customers and the packing process," Tush said. "Making a hobby into something profitable while still enjoying the whole process has been an amazing experience."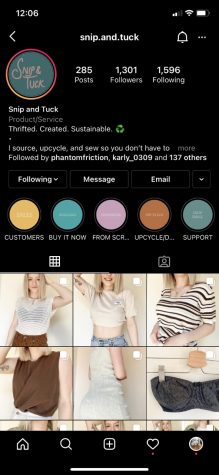 Mckenna Martinosky, a senior physician assistant major, also runs a thrift resale and repurposing Instagram page, called The Cosmic Collective (@the.cosmic.collectivee). Martinosky also offers personalized style bundles, where she shops for multiple items for a specific customer.
"I thrift clothes that I think are fun and unique and give them a new life through upcycling and reselling," Martinosky said. "I've always loved to thrift, but my closet is ridiculously full already and I thought it could be fun to shop for other people instead."
Martinosky has been reselling clothes since 2018, during her freshman year. She started a thrift Instagram page in 2019 to resell some of her old items, and The Cosmic Collective was created by fall of last year. Martinosky hopes to continue growing her business for as long as she can.
"There will never be a time in my life where I'm not thrifting, so I definitely see it becoming a long-term endeavor," Martinosky said. "It started out as a small hobby and has really become a part-time job while I'm in school. I'm so thankful for the support I've received from everyone who has purchased from me or even just simply followed my page."
Martinosky offers size inclusive and gender neutral pieces in her collection. Thrifting and repurposing also allows for customers to have more sustainable clothing alternatives to shop from, as opposed to fast fashion.
"The fast fashion industry is taking over the world and starting The Cosmic Collective has allowed me to do my part to encourage more ethical means of buying clothes," Martinosky said. "It can be extremely challenging to avoid fast fashion because of how costly sustainable brands are. I feel so lucky to be able to provide affordable, inclusive, and sustainable clothing to others."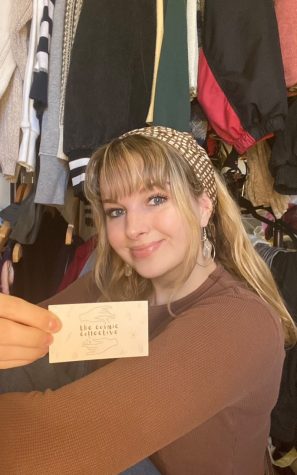 Nadya Makay, a junior accounting major, runs a custom clothing business called NLM Creations. Makay started repurposing clothing from thrift stores in June 2020 as a way to make money during the COVID-19 pandemic. Since then, her business has grown beyond this. Now, some of her most popular items are tie-dyed hoodies, crewnecks and T-shirts.
"I wanted to have a business that was both environmentally friendly, promoted sustainability and was something people would love," Makay said. "People seemed to love the unique tie dye paired with my hand-embroidered designs."
In starting her small business, Makay was inspired by principles of inclusivity and individuality. Her target group is everyone, and she hopes everyone feels comfortable and rare in the clothes they buy from her.
"Everyone deserves something unique and tailored to their exact style and something that matches who they truly are," Makay said. "What's the fun in being just like everyone else? You are you, and I like to help people express themselves in whatever way they can."
Makay also wants to help people love themselves through the clothes she designs. To Makay, the most gratifying thing about her business is the knowledge that people love the clothes she created.
"It brings me so much joy to hear that something I made is someone's favorite thing to wear and feel comfortable and confident in," Makay said. "I wanted to make my business something that could help others feel incredibly comfortable in something they can design themselves."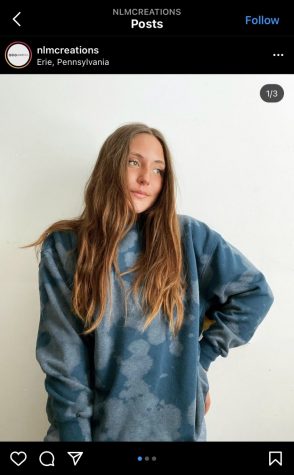 Madison Wall, a junior nursing major, creates and sells earrings. She has been running her small business since October, and hopes to continue throughout the rest of her time in college.
The earrings are usually made out of polymer, clay or resin, and are primarily sold to Gannon students. Wall started making earrings as a way to release stress, and eventually she was able to turn her hobby into a business.
"It's a way for me to put my creativity into and enjoy what I make, but other people loving my products makes me really happy as well," Wall said. "It's a really good outlet for me to use my brain in ways that aren't studying."
Wall takes inspiration for her earrings from art and other beautiful things she sees in her life and the world around her. Since the start of her business, she has continued to grow and become better at her craft.
"As a creator, I've learned new techniques and ways to put together earrings," Wall said.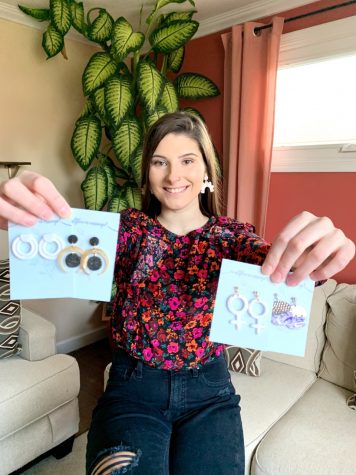 Tyler Grosholz, a senior digital media communications major, runs his own music production company called Planet Propaganda. Grosholz began selling beats online, but has since expanded his services to include graphic design, video directing and artist management.
"Making art, and especially music, has always been my favorite thing in the world to do," Grosholz said. "Once I learned I could monetize that passion, it changed my way of seeing the world."
While Planet Propaganda came from simple beginnings, it has since expanded, and continues to grow more and more successful.
"I started with nothing more than my laptop and some computer speakers," Grosholz said. "But through lots of practice and more importantly, good networking, I've been able to scale my business into a five-figure-a-year company."
Grosholz offers services to all creators of all walks of life. He has been able to work with a wide variety of artists and groups.
"Because of the internet, I've been able to connect with people of all backgrounds," Grosholz said. "I've worked with artists ranging from Pittsburgh's rock group Back Alley Sound to D.C. area's WillThaRapper."
Grosholz hopes his music will leave a legacy, and live on long after he does. That is his motivation for creating and producing music, and the motivation behind Planet Propaganda.
"The feeling that even after I'm gone, my art will continue to make a difference in people's lives is something that I take great pride in," Grosholz said. "My goal is to change the world."
Through a global pandemic, trials and tribulations, small businesses owned by Gannon students are thriving. Business owners are working hard and persevering, and it is only up from here.
"It took me awhile, but I've realized that you can do anything you want in this world," Grosholz said. "So go do it, and stop worrying about stuff you can't control."
ANNA MALESIEWSKI