Parkland shooting survivor set to speak virtually
Samantha Fuentes will share her story as a survivor and the trauma she endures.
In the almost three years since tragedy struck Marjory Stoneman Douglas High School in Parkland, Fla., mobilization and communication have been key to changing the narrative surrounding gun control and gun violence in the United States.
Student survivors started an important conversation, driven by their own experiences as victims of gun violence.
This conversation rippled through the country, inspiring students, educators, legislators, other victims of gun violence and the general public to speak up and bring the issue of gun violence to light.
Student survivors of the Parkland shooting organized a march, the March for Our Lives, which turned into a nonprofit organization with sister organizations throughout the country.
One of those survivors, Samantha Fuentes, is set to speak virtually to the Gannon University community on Feb. 17.
Fuentes' original speaking event was set for last March but was canceled due to the onset of the COVID-19 pandemic.
The event was planned as part of the College of Humanities, Education and Social Sciences' speaker series titled "Make Change: Stand Up, Speak Out." The event was moved to this year's speaker series, which focuses on racial justice.
Gun violence disproportionately affects communities of color, which is why Fuentes' talk fits into this year's speaker series theme, said Jeff Bloodworth, Ph.D., co-director of Gannon's School of Public Service and Global Affairs and a member of the CHESS speaker series committee.
"Her talk is also more about trauma than it is about gun rights or gun control," Bloodworth said. "But, obviously, it's both at the same time."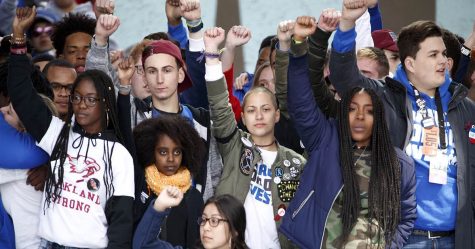 Not only did she lose 17 classmates and teachers, but Fuentes was also among the injured in the aftermath of a shooting rampage perpetrated by a former student wielding an AR-15.
She was shot in her thigh and had to walk with a cane for months after the shooting. As a result of her injuries, she has bullet shrapnel permanently embedded in her legs and behind her right eye.
Physical trauma is only the beginning of what she endured in the aftermath of the shooting, though. Her emotional trauma, which manifests itself in Post-Traumatic Stress Disorder (PTSD) is something she's had to manage on a daily basis.
However, she has not let the tragedy she endured hinder her life. Instead, she has turned her trauma into action. In the direct aftermath, she and other Marjory Stoneman Douglas students formed March for Our Lives, speaking on stage in Washington, D.C., in front of a crowd that had upward of 800,000 people.
Now, she works with Angel Faces, an organization that serves girls who have endured trauma of all kinds. She also speaks to groups across the United States about gun violence and trauma.
Fuentes' talk on Feb. 17 will take a side-door approach, according to Bloodworth, who said talking about gun violence in relation to trauma is an approach to the issue that many are not used to.
"I think that even if you are a student who is a staunch supporter of the Second Amendment, you can attend this talk, and you're not going to immediately disagree with what she says because that's not really the primary topic she's going to be dealing with," he said.
The CHESS speaker series committee chose Fuentes over other Parkland survivors who hold speaking events because she can appeal to an array of audiences.
This way, nobody is alienated from the issue, and people who are interested in gun rights, gun control and even trauma can attend and gain something from it.
In addition, she appeals to students in a manner that other speakers who visit Gannon might not.
"She's the age of your average Gannon student," Bloodworth said. "You don't often bring to campus someone who is the same age as college students and has played a significant role in a national event.
"I think the idea is that it would create a buzz and some natural interest, rather than just 'Here's some extra credit.' This is an event and a person that many Gannon students would look at and go 'Oh, that's interesting.'"
Kyla McNulty, a junior public service and global affairs major, said that the event will be an opportunity for students to hear from someone their age who has gone through trauma that might be similar to their own.
"I think that after this event, students will be more open to sharing their experience of trauma and gun violence," McNulty said. "This is good, since we can never really grow and learn if we continue to stay in our comfort zone."
Talking about gun violence is something that is often far outside the boundaries of many peoples' comfort zones. Especially since the outbreak of mass shootings in the U.S., the issue has become polarized, with sides attacking each other, refusing to reach a compromise or understand the issue from another point of view.
While gun control can seem like a non-issue to someone who has more left-aligned beliefs, it isn't that simple for others.
"It's a symbolic issue for rural America that sees itself as economically and culturally marginalized," Bloodworth said. "It is, and that's the symbolic issue that has been clutched at."
This polarization is why talks like the one Fuentes is slated to give to the Gannon community are so important. Focusing on one aspect of the issue of gun violence, gun control and gun rights, like trauma, can humanize the issue and create a discourse that is not as heated or conflicted.
As the three-year anniversary of the Parkland shooting is Sunday, Fuentes' talk is even more appropriate. The Gannon community will be able to hear a first-hand account of the trauma that stems from gun violence.
Fuentes will be speaking virtually to the Gannon community and the public via Zoom Livestream Feb. 17 at 7 p.m., as well as visiting classes virtually throughout the day.
Register for the event at engageu.gannon.edu/event/6787075. A link will be sent to all who register on the day of the event.
MADELINE BRUCE