Gannon prepares for new semester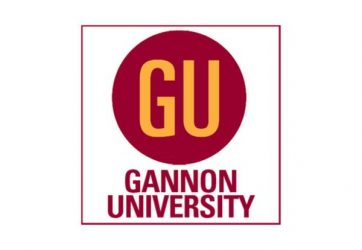 Gannon University is preparing to begin the 2021 spring semester under the cloud of a continuing global pandemic that remains a force in the community.
Students returning to campus will be faced with many of the same policies and guidelines they dealt with a semester ago: mask wearing, mandated social distancing and no large social gatherings.
To prepare for this return, the university has laid out criteria for students to follow.
Per the university, students by now will have needed to resume filling out the LiveSafe app checklist on a daily basis and scheduled both their move-in and COVID-19 test before returning to campus.
Gannon is requiring that students coming back from out-of-state and living on campus will need to have a COVID-19 test completed between now and Saturday (Jan. 23).
Students living off-campus, as well as commuters and employees, had the option to get a test done earlier this month.
In addition, the university has announced that beginning Monday (Jan. 25), most services and resources will resume normal hours of operation.
Walter Iwanenko, Ph.D., provost and vice president for Student Experience, said that the fall semester was a learning experience for the university and that much was gained from the realities of dealing with COVID-19.
Iwanenko said that despite the rising number of COVID-19 cases across the United States, the university felt comfortable returning at the predetermined date.
"We feel confident that we can onboard students and maintain a level of safety because of the processes we have put in place," Iwanenko said.
Iwanenko said that the university learned a lot from the fall semester and is prepared to welcome back everyone.
To prepare, it starts with testing.
"We will be testing a much higher number of students this spring, including mandating all students to be tested who reside in GU housing," Iwanenko said.
Iwanenko said all employees and off-campus students are being encouraged to get tested.
With COVID-19 protocols being in place this past semester, conduct cases more than doubled as a result; however, Iwanenko said there will be a zero-tolerance policy with anyone who disobeys university protocol.
"Although I hope it does not happen, I would not be surprised to see a larger number of student suspensions and/or dismissals," Iwanenko said.
"I would ask our students to not put us in the position to have to make that decision."
In terms of dealing with a potential outbreak, Iwanenko said that the university is prepared if that were to happen.
"We have contingency plans for outbreaks that range from quarantine in place for two weeks, to moving some instruction remote, to closing campus and moving all instruction remote," Iwanenko said.
"The decision will depend on the conditions."
In addition, the university remains in constant communication with local and state health departments, as well as partners such as UPMC and LECOM, Iwanenko said.
When asked about the potential for members of the Gannon community to be vaccinated, Iwanenko said that he was hopeful that vaccines would be made available during the spring semester.
"We will encourage our community to take advantage of the vaccines, if offered," Iwanenko said.
Iwanenko said that full, in-person instruction is the main goal of the semester.
"We have all worked so hard to maintain a face-to-face learning environment," Iwanenko said. "It is extremely important to many of our students to be on campus."
Iwanenko said that while a shutdown is on the minds of those at the top of the administrative hierarchy, the fight is to stay on campus.
Students had mixed feelings as Monday approaches
Tori Elbert, a sophomore nursing major, said that while she was excited to be back, she was also nervous.
"Most of the students are coming back at the same time and we have a big portion of our students getting tested on Sunday and going to classes on Monday," Elbert said. "I think we should have moved in earlier to prevent any spread and to properly quarantine before classes resume."
Courtney Bayne, a junior nursing major, echoed that sentiment, but nonetheless was excited to return.
"I think we'll just have to make the most of it," Bayne said. "I have confidence, despite what's going on, Gannon knows how to handle the semester."
Students interested in finding out more about Gannon's COVID-19 protocols and policies should visit update.gannon.edu.
MICHAEL GUIDO