Gannon students share mixed COVID-19 experiences
Experiences may vary, but COVID-positive students overall felt well cared for
There is no doubt that this year is filled with many unknowns, and it still is. COVID-19 has caused the world to change, and navigating that change can often feel like walking through a thick fog at night – like there's no sign of what's ahead.
With the return of students for the fall semester, Gannon University administration prepared to test students for COVID-19, isolate positive cases, contact trace close contacts of those who tested positive and quarantine those who either presented symptoms or were deemed close contacts.
Though the university heavily communicated with students, families, faculty and staff in the days leading up to the start of classes in early August, students soon learned that there were a lot of unknowns revolving around testing, contact tracing, quarantine and isolation.
Clearing up those unknowns is important, says Kathleen Gauseman, vice president for Student Development and Engagement at Gannon. Part of this role is to oversee the university Health Center and, by default, the coronavirus task force on campus.
The process that involves a positive COVID-19 test or being a close contact with a person who tested positive is something Gannon has in place but is still navigating.
Students are either tested through surveillance testing efforts, contact tracing efforts, or on their own accord due to illness symptoms aligning with COVID-19 symptoms. The initial test occurs through Gannon's Health Center, and after the results come back, students are contacted by the Health Center about their results.
This is where students' experiences can diverge. If a student's test was part of surveillance testing or on their own accord, a negative result will allow the student to avoid quarantine and go back to their normal routine. However, if a student's test was part of contact tracing — that is, they were tested because they were a close contact of someone who tested positive — quarantine is required for the student for two weeks from the date of contact with that positive person.
Once the student is placed in quarantine, they are tested again on the fifth day, and their symptoms are monitored through day 14. If students are still symptom-free on day 14, they are released on day 15 without being tested again. However, that can change with the onset of symptoms.
"Symptoms can come on up to 14 days after contact," Gausman said. "So, if they are showing symptoms on day 14, they're not going anywhere, and that changes the timeline of quarantine and isolation."
If a student's test results come back positive, they are then put in isolation for 10 days from the onset of their symptoms.
The reasoning behind testing students on day one of quarantine and day five of quarantine has to do with the timing of symptoms coming to the surface.
"What we have found is that when a student is in quarantine for about five days or so, that's about the time frame during which there is enough of the virus in a person's system for a test to turn out positive," Gausman said. "At that point, we talk to the student about who they were in contact with prior to quarantining so that we can get all of those people quarantined, as well."
Gannon has an extensive contact tracing team that is in charge of figuring out who a positive student came in close contact with and reaching out to those people.
"Close contact" is deemed being within a six-foot distance of a positive person for more than 15 minutes with or without a mask. Time and distance are the key factors in deeming whether someone is considered a close contact, Gausman said.
Once a member of the Gannon community tests positive, contact tracers meet with that person and help them decipher who they have been in contact with in the two weeks preceding their positive result. They go through a list of questions that thoroughly covers where the student has been and who they've come in contact with, in an attempt to figure out where the spread of the virus could have happened.
To keep this process as simple as possible, Gausman said students should stay in small pods to do any socializing, so that they are always with the same six to eight people.
Typically, positive test results are received early the morning after the test was administered. Once contact tracing receives the results, they immediately start reaching out to the positive person and any close contacts. According to Gausman, contact tracing happens as soon as the tracers find out information. Still, it could take some time for tracers to get to everyone.
"It takes a little bit of time because we have to sort through all of the information, make the phone calls and wait for people to return the phone calls," she said. "Within the day, I'd say they should know if they are a close contact and if they have to get tested or quarantine."
Once a student tests positive with Gannon, they also have to get a confirmation test at UPMC Hamot. Once that test comes back positive, Gannon's COVID team has to tell the net system from the state so the case can be recorded in the state data. Then, Gannon hands the case over to the Erie County Health Department, which has jurisdiction of the cases once Gannon hands them over. The Health Department then conducts its own contact tracing and follows the case to control the spread even further.
Gausman said that by Gannon doing testing, cases are being caught earlier. In addition, the process is quicker through Gannon than through the county Health Department.
"If you were to go through the Erie County Health Department, then they have to contact you, and it could be a two- or three-day process," she said. "This way, Gannon has already gotten the close contacts out of the community and into quarantine, so we are stopping the spread way earlier than if we just let the normal course of action take place."
Still, despite Gannon's thorough efforts in tracing and communicating with students, there are mixed opinions regarding the experiences students have had with the process. Some had negative experiences, some had positive, and others had ones that were in-between.
For Brady Bizon, a junior physician assistant major, that negative experience wasn't due to Gannon, but due to the mental health impact that comes with testing positive for COVID-19.
Bizon said that communication and care on Gannon's part was as good as he could have expected, but when his case was turned over to the county Health Department, they "dropped the ball." However, despite the mental ramifications he felt while in isolation, he did feel his care was a priority of the university.
"Residence Life was extremely accommodating and made sure my needs were taken care of during the isolation," Bizon said. "I think Gannon is doing a fantastic job handling the COVID situation."
However, other students felt communication on Gannon's part could have been better. Rebecca Wertz, a sophomore nursing major, felt that Gannon did a good job of communicating at the beginning of her isolation, but that dwindled toward the end.
"Toward the beginning of my stay in isolation, I received a call almost every day from one of the contact tracers, who was very nice and able to provide answers to all of my questions," Wertz said. "However, unlike my friends, I did not receive a call or email from the Health Center until the last day of my isolation, when I reached out to them to forward me my release papers."
Unlike Bizon, who received a test from Gannon a day after being labeled as a close contact, Wertz said her experience trying to receive a test was not so easy. She wasn't tested until she developed symptoms, which ended up being about eight hours after she was deemed a close contact.
"I thought Gannon not wanting to test me until I developed symptoms was a little off, considering some people can be asymptomatic with COVID," she said.
Overall, Wertz's experience was in between positive and negative. While she said those she talked to were very helpful and kind to her, the communication, as well as the food, could have been better.
"One of the biggest complaints I had would have to be the food," she said. "I was basically eating Doc's for 10 days straight, every single meal, and all I craved was a bowl of soup.
"Still, I do think Gannon handled the contact tracing well, and those in charge were extremely nice and helpful."
Like Wertz, Nathan Manion, a junior political science major, said that obtaining a COVID test was not easy. In fact, his experience was extremely difficult.
"After finding out I was exposed, I had to ask multiple times to get tested," Manion said. "The quarantine process was overall confusing, and I felt that there was little information on expected release dates and steps to take if you test positive."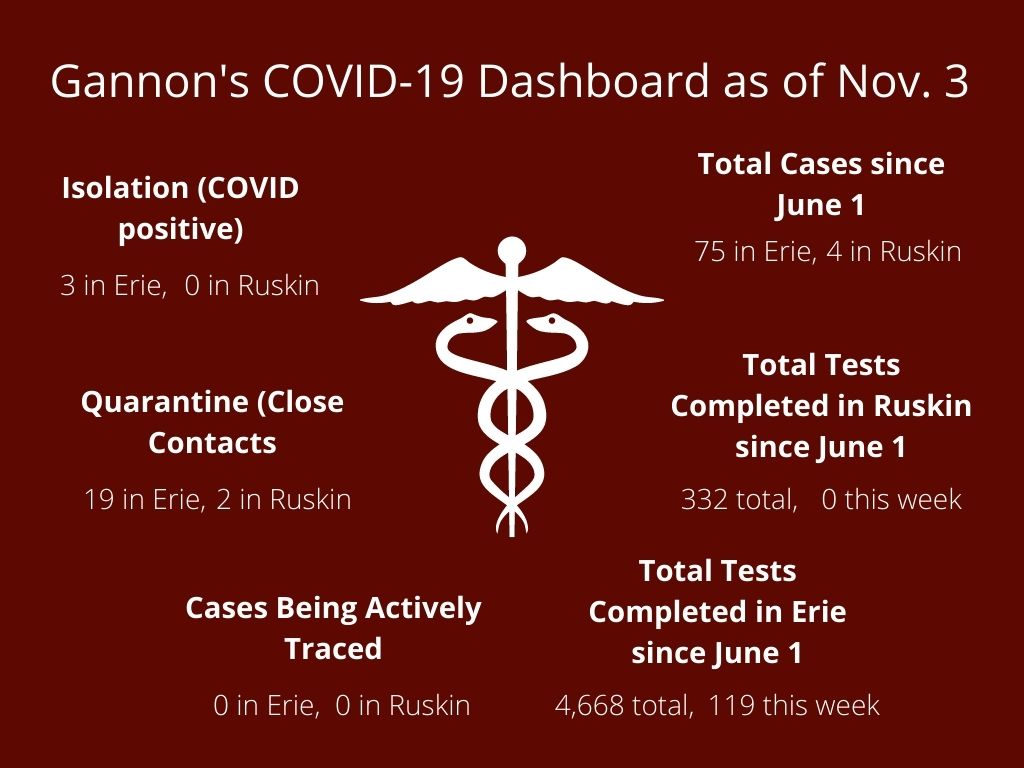 For roommates Alexa Harding and Madelyn Feyko, their experiences were almost all negative. Feyko, a junior pre-law major, said that the majority of communication she received was via email, and that when she did express her concerns to Gannon officials, nothing was ever done about them.
"The positive cases I was in contact with were reported through an athletics coach, and I do feel that because it wasn't directly reported on the LiveSafe app, strings were pulled," she said. By this, Feyko means that the coach of the athletic team had the athletes who were close contacts tested off campus outside the jurisdiction of Gannon.
Harding, a junior early childhood and special education major had similar sentiments, and said that the people she came in contact with "got tested off campus and didn't report symptoms on the LiveSafe app."
As a result, the positive students they came in contact with went to class, practiced and walked around campus all while contagious.
"Once Gannon found out they were positive, they immediately put them in isolation," Harding said. "They were then handled through Gannon, but Gannon didn't seem to follow protocol. There's also been no consequence or meeting for blatantly walking around campus while they had symptoms, as well as not filling out LiveSafe properly and getting tested off campus."
Feyko and Harding also said that many of the other close contacts of the two positive students avoided the mandatory two-week quarantine by getting tested off campus and having their situation handled by a coach who said she would "take care of" the athletes who were close contacts.
Despite the overall negative experience the two had, Feyko said there was a light in the darkness, which came from the GU Care team, dedicated to helping students through quarantine and isolation.
"The only actual human beings I spoke to from the university during my 14 days in quarantine were two members of the GU Care team," she said. "They were both extremely personable, let me express my concerns and made sure I didn't put my head through a wall."
In response to these claims, Gausman said that the chance an athletics coach would go behind the backs of Gannon is doubtful and against protocol.
"I don't know anything about that, and I don't think they would do that," she said. "If anything, they might be extra cautious after the student has gone through our system. They would be more likely to not have students go to practice and would get them tested again to be safe."
Unlike Harding and Feyko, Emily Lynch, a freshman theatre design and technologies major, had an extremely positive experience, despite not contracting COVID-19.
Lynch started exhibiting COVID-like symptoms and, as a result, failed her LiveSafe survey and had to be tested for COVID-19. Though she tested negative at first, she was still required to isolate in case her second test did come back positive. Throughout the process, she said that everything was effortless and done quickly, with her care in mind.
"When I woke up feeling unwell, I was immediately very concerned about potentially getting my roommates sick," she said. "I got moved to an isolation room within an hour."
Lynch also said it was very easy for her to get tested, and that she got one almost immediately after failing the LiveSafe survey. Then, she got one a few days into isolation. During isolation, she also received mental health care and said that those in the Health Center always made sure she had everything she needed, even offering her soup if she wanted to eat that instead of the normal cafeteria food that was delivered.
"Throughout my time in isolation, I felt well taken care of," she said. "I can't speak for everyone, but in my experience, it was handled very well."
MADELINE BRUCE