CHESS speaker series set to host back-to-back events this week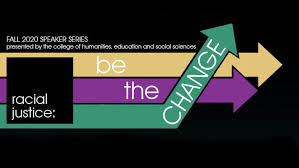 This week is packed full of events in the CHESS Racial Justice: Be the Change lecture series. With events Tuesday, Wednesday and Thursday, the Gannon University community will have an array of free opportunities to hear voices from campus, as well as those from the Erie community.
Tuesday, three Gannon leaders will head a livestream version of the annual St. Albert the Great Lecture, titled "Walking with Pope Francis: Encouraging Dialogue and Friendship at Gannon." Lori Lindley, Ph.D., dean of the College of Humanities, Education and Social Sciences; Rebecca Perry, director of the Center for Social Concerns and Global Exploration; and Eric Dart, Ph.D., chair of the theology department and liberal studies task force, will collaborate on the lecture. The three will discuss justice, diversity and inclusion at Gannon in the context of Catholic Social Teaching. Gannon faculty, staff, students and alumni are invited to attend the lecture, which will be held at 7 p.m.
Those interested can register at http://www.gannonalumni.org/event/albert.
At 11:15 a.m. Wednesday, the social work department will be sponsoring the Champions of Justice event. Students in the social work and criminal justice programs will present their character synopsis of diverse individuals who have made contributions to creating an equitable society that often go unnoticed. Anyone is welcome to attend using the link https://gannon.zoom.us/j/96756850476 to access the Zoom room.
The final event in this week's progression, "Building an Equitable Community: A Discussion on Inclusive Programming in the Arts" is set to be held at 7 p.m. Thursday via livestream.
The virtual roundtable event is part of an initiative between Gannon and Erie Arts & Culture. The discussion, moderated by William Steadman, the concert band director at Gannon, will feature a panel with members of Erie's artistic community. The panel will lead an open discussion on inclusivity and diversity in the arts. Those interested can register for the event at https://bit.ly/3kqSRqv.
Keep an eye out for more virtual and face-to-face events in the Racial Justice: Be the Change speaker series throughout the 2020-21 academic year.
MADELINE BRUCE