Gannon hit with former student lawsuit
A former Gannon University student-athlete has brought forth a lawsuit alleging mental and emotional abuse at the hands of an athletics coach.
The plaintiff in the case is Kayla O'Brien, a former student and former member of the women's wrestling team. The case was filed Sept. 15 in U.S. District Court for the Western District of Pennsylvania and the defendants are the university and Christen Dierken, the women's wrestling team coach.
O'Brien alleges in her lawsuit that Dierken engaged in a campaign of "discrimination, retaliation and abuse" that grew increasingly intense during O'Brien's time at Gannon.
O'Brien has demanded a jury trial. Among other things, she is seeking compensatory and consequential damages, including damages for emotional distress.
In a statement, Haley Figurski, Gannon's media relations & marketing manager, said that the university is aware of the filing and is in the process of discussing the case with attorneys.
"Beyond that, we have no comment on the case at this time," Figurski said.
Neither Dierken, Athletics Director Lisa McGuirk nor Gannon's attorneys offered comment.
In the lawsuit, O'Brien said that after being recruited by Dierken and offered scholarship money, she began experiencing discriminatory treatment after informing Dierken of her diagnosis of ADHD, anxiety and seasonal depression.
This also occurred in light of her informing Dierken that she had a "individualized education program" at Gannon and had authorization to take medication in line with NCAA rules.
According to the lawsuit, Dierken said O'Brien was "exhausting" during a June 2019 wrestling camp and told her staff that she regretted recruiting O'Brien.
The lawsuit alleges that over the course of the fall 2019 semester, Dierken "cultivated a culture of fear and abuse on the Team by engaging in reckless and troubling behaviors, establishing loyalty as a core value for those who wanted to remain on the Team, shielding loyal or favored Team members from her abuse, and targeting others."
It is alleged in the lawsuit that upon learning of O'Brien's disabilities, Dierken made O'Brien the main focus of her discriminatory practices.
According to the lawsuit, Dierken met with O'Brien during "mentorship meetings" and frequently told O'Brien she was "too anxious" and "too emotional or sensitive."
In addition, the lawsuit states, Dierken talked about O'Brien in a disparaging manner to other members of the team, insinuating that O'Brien was not loyal and lacked a sense of loyalty.
According to the lawsuit, Dierken further stoked divide by asking members of the team on van rides to and from various competitions what they didn't like about O'Brien and encouraged negative feedback.
The lawsuit alleges that Dierken "participated in these conversations by feeding O'Brien's teammates with misleading, untrue, and thinly veiled hypothetical comments disparaging her disabilities."
The behavior exhibited by Dierken led to O'Brien's teammates treating her with "aggression and hostility," the lawsuit states, and drove O'Brien to seek help from Dierken, who told O'Brien that it was "all in her head."
O'Brien further alleges in the lawsuit that Dierken wrote her up after asking for accommodations due to her documented disabilities. This came in light of O'Brien texting Dierken just before an August 2019 team retreat to inform her of adverse side effects O'Brien was experiencing related to medication she was taking and that her physicians were struggling to find a balance suitable for her.
It is also alleged that Dierken used O'Brien's rejection of mandatory religious sessions as ammunition in her harassment campaign and goal of removing O'Brien from Gannon.
Dierken had wanted to require team members to attend religious sessions with "spiritual parents," though these "parents" were not Roman Catholic or officially sanctioned by Gannon or the Erie Diocese, according to the lawsuit.
The lawsuit states that this bothered O'Brien and her family, leading Dierken to end the practice, but led to greater harassment of O'Brien, the lawsuit claims.
O'Brien also alleges that she was singled out for consuming alcohol at a party as a freshman.
After O'Brien admitted to Dierken that she drank at a party, Dierken subjected O'Brien to a team vote on what her punishment would be, a decision viewed by O'Brien as "a situation of public humiliation and shaming that no other Team members have had to go through, previously or since," the lawsuit states.
According to the lawsuit, non-disabled students who had not lodged complaints in the past but who had been guilty of similar or more egregious violations of university rules or policies "were not publicly humiliated and did not have their sanctions decided by their teammates."
The lawsuit further alleges that McGuirk failed to act after a licensed clinical psychologist from Gannon's counseling center contacted McGuirk to inform her of concerns O'Brien had directed to her regarding Dierken that could be interpreted as "mental/emotional/physical abuse."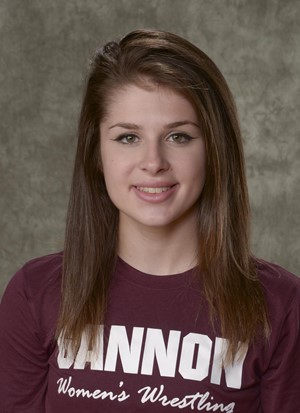 The lawsuit alleges that instead of seeking intervention in the situation, McGuirk chose to focus on "eliminating" O'Brien from the athletics program.
After meeting with O'Brien's parents in November of 2019, McGuirk referred O'Brien to the Office of Student Conduct for an isolated incident that occurred with an athletics trainer.
The investigation conducted by Sue Majocka, the director of student accountability and prevention education/Title IX coordinator at Gannon, failed in several areas, according to the lawsuit. Among other things, the lawsuit alleges that Majocka failed to properly investigate the issue and failed to interview pertinent witnesses.
The lawsuit also alleges that O'Brien was physically assaulted by a teammate during a home wrestling meet in December of 2019; however, that wrestler was suspended "a mere two weeks," and remained on the team and continued to participate in team activities, the lawsuit claims.
The lawsuit alleges that throughout O'Brien's suspension, Dierken would not speak to O'Brien and continued to "target" her, which included labeling O'Brien the "enemy" and telling team members that they would be viewed as "disloyal" and could potentially be "ruined" if they continued to communicate with O'Brien.
This led to O'Brien being "aggressively accosted at the door to her residence hall room by three other women student wrestlers seeking to harass and intimidate her," according to the lawsuit.
The lawsuit states that after this incident, O'Brien contacted Majocka seeking guidance, but received no initial help; O'Brien was later informed to contact Gannon Public Safety if she felt targeted or threatened.
O'Brien then took it upon herself to file a harassment complaint with Gannon Public Safety on Jan. 11 out of "fear for her personal safety," according to the lawsuit. O'Brien further asked that Dierken not be made aware of the report out of "fear of retaliation."
Despite filing several reports and complaints regarding Dierken and her alleged discrimination and retaliation, Gannon did not conduct an official investigation until March of 2020, the lawsuit states.
Eventually, O'Brien departed Gannon after being removed from the team and her scholarship was revoked.
MICHAEL GUIDO