SGA Executive Board for 2019-2020 announced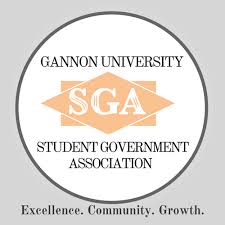 The season of elections for Gannon University's Student Government Association (SGA) concluded last week with the election of the 2019-2020 SGA Executive Team.  
Aside from the election of David Long as president and Matt Schlessman as chief of staff that was announced last month, six other positions were filled in the process.   
John Tyler "JT" Koch was elected vice president of finance, Justin Johnson was elected vice president of internal affairs and Beth Kropf was elected vice president of marketing and communications.  
Nicole Wiemken will be the vice president of academic affairs, Jae Seung Lee will be vice president of student engagement and Sidney Oyatta will be vice president of technology.  
Long, the incoming president, expressed his excitement at the prospect of working with the newly elected team.  
"Of course, I can try and express this with some words, but at the end of the day I don't think it will do it justice," Long said.   
Long said he is very excited for the upcoming year.  
"With half of the team returning having had previous executive board experience and the other half coming in fresh, I think we will have a very good team dynamic," Long said. 
"I also believe with such a unique level of diversity, each member is bringing in his/her own perspectives and strengths and series of life experiences." 
Additionally, Long laid out what the new executive team hopes to accomplish this coming year.   
"Our main focus is building a concrete foundation for our team moving forward," Long said.   
"At the end of the day, our biggest goal is to help coordinate and lead a team who empowers students all across campus to become great people and advocates for their student experience."  
The executive board has several roles.  
Each vice president oversees their own respective committee related to his/her position. 
Class representatives, functional representatives and non-voting members have the opportunity to get involved by being members on the vice president commitees.  
Members also participate in an intensive leadership development retreat over the summer. 
Other members of the new executive team expressed their excitement to begin working in the new school year.  
Sidney Oyatta, a junior computer information systems major, was elected vice president of technology and said he is enthusiastic to join SGA.  
"I am very excited to be a part of the SGA team," Oyatta said.  
"I look forward to making my ideas flourish in the student body."  
Beth Kropf, a sophomore psychology major who was elected vice president of marketing and communications, said she is eager for the opportunity to be on the executive board.  
"We have a great group, and I look forward to the collaboration and growth that our organization has under the leadership of this executive board," Kropf said.  
"In the position of vice president of marketing and communications, I look forward to supporting my teammates in marketing their programs, events and opportunities as well as supporting all the clubs and organizations at the university in promoting their vision."  
Justin Johnson, a sophomore social work and theology major, who was elected vice president of internal affairs, said he is excited to serve SGA in this capacity.  
"I look forward to furthering the community within the organization and welcoming incoming members," Johnson said.  
"I hope to execute a spring retreat, which we haven't had the chance to have for the past few years."  
The new executive board will begin handling official business once the 2019-2020 academic year starts. 
MICHAEL GUIDO