Students excited to participate in annual CHESS Conference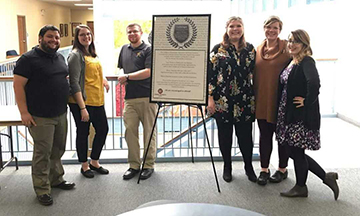 Gannon University students will have the opportunity this spring to contribute to Gannon's annual College of Humanities, Education and Social Sciences (CHESS) Humanities Conference.   
This will mark the school's fifth annual CHESS Conference. 
Students who are a part of CHESS are encouraged to submit a presentation proposal that revolves around the theme of freedom, with broad interpretation allowed.   
The list of presentation options includes, but is not limited to, research papers, senior theses or capstone projects, or artistic performances and exhibitions.  
Freedom will serve as the theme because it "can be connected in a variety of ways to nearly all disciplines," according to the CHESS website.   
Past conferences have focused on different topics such as "Surviving and Thriving in Uncertain Times," "Cha(lle)nges Understanding and Pursuing Transformation and Renewal Across Disciplines," "(Mis)representations: Defining Identity through Power and Privilege," and more.  
Jeff Bloodworth, Ph.D., director of the history program, said he felt that the theme was fitting for the times we are living in.   
"In light of struggles we see around the world, the rise of authoritarianism in Europe, and so on, this year's theme is especially significant," Bloodworth said.  
Bloodworth also offered words of encouragement to students considering submitting a piece of work to the conference.   
"Students should absolutely apply and present their work," Bloodworth said.   
"Giving a paper to a bunch of strangers is intimidating. Doing things that scare you is what college is all about."   
Bloodworth said that it's good for students to gain experience by submitting a paper for the conference.  
Some students, whose majors reside under the CHESS umbrella, think this is an exciting opportunity to openly discuss a critical issue in the world.  
Claudia Herrero, a freshman public service and global affairs major, said that this conference is a great opportunity for students to get involved.   
"I believe this year's theme gives the students the opportunity to be creative and expand their borders for what freedom means to their generation," Herrero said. 
Nathan Manion, a freshman political science major, said that students will be able to present their ideas about the theme of freedom.  
"Freedom is something we all want, and feel is best for humanity, and so I feel like this conference will really serve as a forum where this key idea can be discussed, analyzed, and evaluated, hopefully with good ideas being presented though the words of Gannon students," Manion said. 
Randall Sutter, a freshman public service and global affairs major, said he thinks the theme of freedom is great and that the conference will be an exciting event.  
"Freedom is one of our biggest issues right now all over the world, and in the UN; I think whatever solutions are brought to the table could be considered as solving problems globally," Sutter said.  
Anthony DiFonzo, a freshman criminal justice major, said he hopes students have some good things to offer for the conference.  
"As a criminal justice major, it is my job to ensure that freedom is protected, and so I think it's great that this year's theme revolves around freedom," DiFonzo said.  
Student are being given an extended deadline; the original deadline for submitting a proposal was Wednesday. Students now have until Jan. 7 to submit proposals, and this can be done by going to gannonchess.com.wixsite.com and filling out the form needed to officially submit the proposal.  
MICHAEL GUIDO