Phil Elverum returns as Mount Eerie alias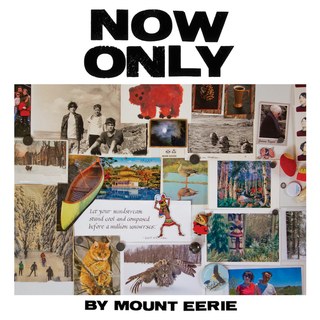 ALLAN COLLINS
staff writer
Phil Elverum is one of those artists who has been around the music scene for quite some time.
He produced four albums between 1999 and 2003 from his other alias The Microphones, and now here we have his 10th full-length studio album, "Now Only" under the name Mount Eerie.
To be honest, I wasn't really looking forward to this record — just like how I wasn't looking forward to listening to his 2017 record "A Crow Looked At Me."
The reason isn't because the record is bad or because the record has no significance. It's because of the topic that he is writing about and the topic he is fighting with.
Elverum's wife quickly and without notice developed pancreatic cancer and eventually died in 2016. For obvious reasons, this not only shattered Elverum's life, but it has transformed his music into new areas.
"A Crow Looked At Me" is being called "borderline artless" and to be honest, it might be artless. The whole album is Elverum playing the guitar and basically talking about what he is feeling.
But it's still a form of art because of the way that he writes his lyrics. It's some of the most heartbreaking and insightful poetry that you will ever hear.
Now, we have "Now Only," and it's a new step for Elverum because he discusses how he is doing since he wrote "A Crow Looked At Me."
He is discussing all sorts of topics, and it's like listening to him discuss a diary of important events that have happened to him, at least in his eyes.
He talks about live performances, looking at specific art, meeting Father John Misty, listening to black metal and watching the news.
Some things don't exactly seem huge to us, but to Elverum, it is a shift in understanding and a shift in healing.
In "A Crow Looked At Me," Elverum can't come to any significant or distinctive conclusion. He can't keep his mind straight.
He is fighting not only himself, but the heart that he typically wrote his music with.
On "Now Only," he is starting to make sense of his thoughts and feelings through these specific events that he is talking about in each song.
On "Tintin in Tibet," he discusses how he met his wife and how they fell in love, their daughter being born, their lives together and what exactly happened up to her death.
The track "Now Only" discusses his experience playing live shows at festivals and what he learned from other people at these festivals.
Each song continues these realizations and explorations of how to cope with this death.
At the end of the day, this is still no easy listen to get through and is extremely minimal. But the album is beautiful in its own way.
The way Elverum continues to make these knotted and colorless ballads produces such grace and reflection.
I am not going to be giving this a score because it's both a 0/10 and a 10/10. It's every score and it's not a score because you can't give such a heartbreaking album a rating.
Give it a listening or don't, but at the end of the day remember that lives move on with or without us. But, no matter what is thrown at us we can get through it.
ALLAN COLLINS
[email protected]