Women's basketball season ends in PSAC Tourney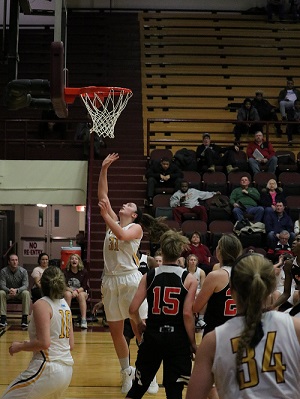 The Gannon University women's basketball team saw its season come to end Feb.26  in the opening round of the Pennsylvania State Athletic Conference Tournament, as the Knights fell 78-65 on the road to No. 4 seed Seton Hill.
Maggie Mitchell scored 30 points to lead Gannon, which completed its regular season with a three-game winning streak capped by a 60-50 victory Saturday against Slippery Rock.
The Knights finished 16-13 overall and 13-9 in PSAC play. The 16 victories represented a seven-game improvement from last season.
The PSAC Tournament opener was close through the first half and into the second, as Gannon trailed by just four, 42-38, with 4 minutes, 6 seconds to play in the third quarter.
Seton Hill was able to extend its lead to 10 early in the fourth quarter, but Gannon refused to fold, as Mitchell connected on a three-pointer with 1:53 to play that pulled Gannon to within seven points at 66-59.
But the Griffins connected on 11 consecutive free throws down the stretch to build a 77-63 lead, and Gannon could not come back.
Mitchell hit on 3-of-8 three-point attempts and pulled down two rebounds.
Chelsea Rourke added 12 points and gathered six rebounds to go with three assists for the Knights, who entered tournament play as the No. 5 seed.
Gannon finished the game with a better shooting percentage (43.5 to 39.1) than Seton Hill and also outrebounded the Griffins, 30-25. But Seton Hill finished with just five turnovers to 17 for Gannon, and the Griffins converted those errors into 13 points to Gannon's two.
Gannon finished the season with a 79.2 percent mark from the free-throw line – best in program history. The previous best came in 2008-09 when the Knights shot 77.4 percent.
Prior to the final regular-season game against Slippery Rock on Feb. 24, Gannon honored three players – Mitchell, Ruta Vetra and Kelsey Dugger – as part of Senior Day festivities.
Once the game started, Nicole LaCava and Rourke highlighted Gannon's offensive unit with 16 points each. Rourke also had eight rebounds and four assists.
Mitchell completed the Knights trio of double digit scorers with 13 points, and she added a season-high six rebounds and three assists.
CRISTINA DEL DIEGO
[email protected]nights.gannon.edu