Volleyball concludes historic season in NCAA Semifinals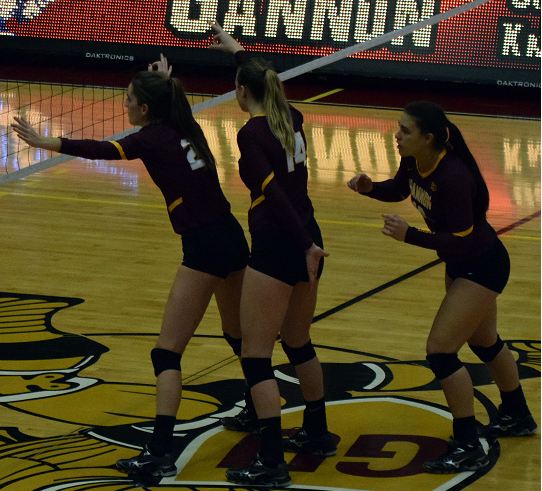 The Gannon University women's volleyball team's bid to bring home a national championship fell short, as the Knights dropped a 3-2 decision to Florida Southern College Friday night in the semifinals of the NCAA Division II Tournament in Pensacola, Fla.
Gannon, which entered the Elite Eight tournament as the No. 7 seed, opened play Thursday with a 3-0 sweep of No. 9-ranked Regis. That vaulted the Knights, who finished their season 32-7, into Friday's semifinals.
There, Gannon took the first set, 25-16, fell to Florida Southern in the second and third sets 25-15 and 25-23, rallied to win the fourth set, 26-24, but lost the fifth set, 15-12.
By advancing to the Final Four, the Knights tied the longest run any Gannon women's athletic team has ever had in a national tournament. No Gannon volleyball team had ever reached the national semifinals prior to this season.
Coach Matt Darling was pleased with the team's performance in the NCAA Tournament during the past two weeks. He said they took each match as it came and stayed focused throughout the tournament.
"The players did a great, great job," Darling said. "Playing in the NCAA finals was a great experience for us, and our players will remember being in the final four for the rest of their lives.  It's a great accomplishment; these players made history."
Florida Southern went on to play Concordia University St. Paul Saturday, and the Minnesota school prevailed in a sweep to win its ninth national championship in the last 11 years.
In Friday's semifinals, the two teams split the first four sets, and the final set was nothing short of a battle.
Gannon built a 6-3 lead after a kill by senior Kelsey Ansec, and after Florida Southern responded with three consecutive points to tie it at 6-6, Ally Smith gave the Knights an edge with a kill to make the score 8-7.
Florida Southern's Nicole Mattson delivered a game-tying kill at 8-8, which ignited a 6-1 run for the Moccasins. Gannon battled back to get within 14-12, but Sydney Marshall put the lid on the jar as she delivered a game-ending kill to win the game 15-12 for Florida Southern.
In the first set, Gannon built an 11-3 lead and after Florida Southern cut it to 17-13, freshman Ashley Kerestes contributed a kill and Smith had a service ace, which extended the lead 20-14. Gannon held Florida Southern to two more points before closing out the first set, 25-16.
After the Moccasins took the next two sets, Gannon was in a do-or-die situation in the fourth set. The Knights jumped out to a 13-9 lead early on, which was capped by senior Maggie Wilhelm's kill. Gannon steadily kept its edge, at one time owning a 21-17 lead before the Moccasins scored five consecutive points to move in front, 22-21.
The pressure seemed to affect the play of Florida Southern as the Moccasins made a service error to tie the game at 22-22. Both teams traded a couple of points to make it 24-24. However, the Smith came up with a huge kill to put the Knights up 25-24, which set up Kerestes with the opportunity to deliver a lethal "Kerestes Kill" to win the set, 26-24, forcing the match to a fifth set.
Darling thought he and the team had a chance to beat Florida Southern, but mentioned that the Moccasins came up with one or two more big plays than Gannon did, which helped them win.
"It was a good, competitive match, and I'm proud of the effort the players gave on Friday," Darling.
Wilhelm said it's an honor to be recognized as the team that has gone farther than any other team in Gannon's history.
"We have worked so incredibly hard, and knowing that we leave this legacy is an amazing gift that we will all cherish (especially the seniors) long after our graduation," Wilhelm said. "Put up that banner."
In terms of the experience, Wilhelm said Florida was amazing. It was very well-organized and all the workers were very welcoming.
"We were treated like celebrities honestly, and got a lot of cool free gear which was nice, but the best part is the sportsmanship that was promoted by all of the teams," Wilhelm said, "At that high level of play there is a level of respect that is understood between coaches and players that I don't normally see during the regular season. The weather was overall gloomy, but the trip was awesome, and NCAA did a great job accommodating all of our needs. I wish we would've won the whole thing, but this was a great experience regardless."
Ansec finished with 20 kills while Smith recorded her 16th double-double of the season with 18 kills and 14 digs. Kerestes was the third Knight with double-figure kills with 11 and five blocks.
Senior Sara Crandall led the Knights with 28 digs, ranking her second all-time with 1,872. Ashley Beyers collected 47 assists and 25 digs to end her freshman season.
Both Ansec and Smith were named to the All-Tournament team. Concordia's Elizabeth Mohr was named the tournament's most outstanding player.
Gannon will graduate seven seniors in Ansec, Crandall, Wilhelm, Anne-Mari Kaur, Brianna Brennan, Rebekah Smith and Jordan Telaviski.
Wilhelm said it she feels overwhelmingly blessed as a senior to have made it this far and to have been so successful over her four years at Gannon.
"The group I am graduating with has been through a lot and we refused to quit on our goals, and it feels great to have achieved our goals and more," Wilhelm said. "It feels like just yesterday we were nervous freshmen, and now here we are. I owe everything to coach, and I can't think of anything I would do differently over these four years because they led me to the final four with my awesome teammates. I already miss it."
BRANDON JACES