Sometimes history leads to new places and people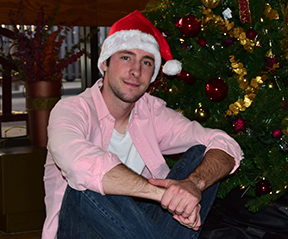 For me, this issue wraps up a year and a half of searching through the Gannon University archives each week for a historical photo to run in the Features section.
First, I gotta give credit to last year's editor-in-chief Kelsey Stiglitz for having such a great idea. Since she so graciously and reluctantly passed the Features-section torch to me last fall, I've been meeting with Gannon archivist Bob Dobiesz at the library every Friday to keep the "Today in History" photo alive.
Rummaging through a bunch of old photos, proof sheets and random publications has taught me a lot about Gannon's history, and provided Bob and me with more than a few laughs.
Maybe I just wasn't paying enough attention as an underclassman, which is very possible, but I feel like Gannon should be celebrating its history a little more after seeing how far the school has come through years' worth of pictures.
There are plenty of things that I would have never known about Gannon had I not taken on this responsibility, like how Gannon used to be an all-guys college before merging with the all-girls Villa Maria College, or how Old Main is over 100 years old and used to belong to one of the wealthiest families in Erie.
In fact, I was never motivated to walk through Old Main until last week after writing an article on its early days and Gannon's acquisition of the building. It's fascinating walking through the first floor imagining what it was like for a family of three to call the mansion their home.
Looking through the archives at what's been its temporary home, Knight Tower, hasn't always been that easy, either. Actually, scratch that. Half the time it's a real pain in the rear.
Luckily, we have this ancient computer program that allows us to search everything in the archives. Once it's generated results, our job is simply to go find the photos. Most of the time we search based on the date, but when that doesn't work out, we'll come up with a subject instead.
After writing down our options and their locations, we spend time looking through shelves of boxes until we've found and evaluated each photo. If we're lucky, none of them will be missing or turn out to be just a picture of the back of someone's head or the photographer's finger over the lens. Which happens A LOT.
I guess it makes it that much sweeter when we just happen to find a great photo that goes along with the date we were searching for.
Luckily, Bob is the most knowledgeable person regarding Gannon history that I've ever met, so writing cutlines has been a breeze. I would've been pretty lost if it hadn't been for his help the past three semesters.
And of course, a trip to the library wouldn't be complete without chatting with Bob Sparks, who works at the front desk. He's basically the defender of the library, so if you see him this week on your way to studying for final exams, say hello. He's one of the nicest guys you'll meet here.
Searching through the archives and seeing Bob and Bob has been one of my only weekly routines that I've looked forward to this semester, so it's meant more to me than just some chore I have to do for my section of the newspaper.
KYLE JOSEPH
[email protected]