Volleyball defeats Wheeling Jesuit University in NCAA Division II Atlantic Regional Tournament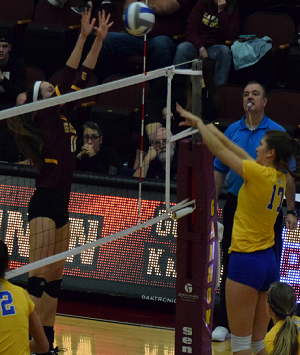 A win of historic proportions occurred for the Gannon University volleyball team Saturday night as the Knights not only defeated, but swept the Cardinals of Wheeling Jesuit University, 3-0, and won the NCAA Division II Atlantic Regional trophy.
Gannon's 25-20, 25-14, 25-17 victory, which snapped Wheeling Jesuit's 26-game win streak, sends the team to the NCAA Division II Elite Eight in Pensacola, Fla.
Tournament play will begin Thursday and continue through Saturday.
Wheeling Jesuit hadn't lost an NCAA Atlantic Regional game since 2014.
Gannon, which is seeded No. 7 among the eight tournament teams in Pensacola, will open tournament play at 3:30 p.m. Thursday against No. 2 seed Regis of Colorado.
Concordia St. Paul is the tournament's No. 1 seed.
This will be Gannon's fourth Elite Eight appearance after appearing three times from 1991-1993.
Sophomore Ally Smith led Gannon in the sweep of Wheeling Jesuit with 13 kills, followed by seniors Kelsey Ansec and Rebekah Smith with nine and seven, respectively. Senior Sara Crandall had the only ace of the game.
Freshman Ashley Kerestes led in blocks with seven, Ansec had four and freshman Ashley Beyers had four as well.
Beyers led the team in assists with 36, while sophomore Toni Leitshuh and Crandall each had two.
Leitshuh had the team-high of 11 digs, and on her heels was Kerestes with 10 and Crandall with nine.
The schedule for the Elite Eight will be up on Gannon's athletic website and will be on the NCAA's website under the Division II and volleyball tabs.
BRANDON JACES