Volleyball defeats Pitt-Johnstown in second round of NCAA Tournament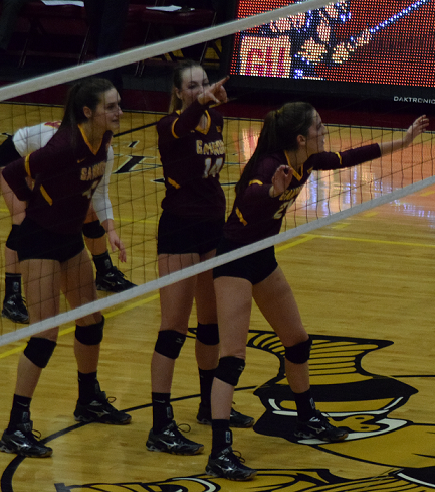 After losing a 2-0 lead and ultimately falling to the University of Pittsburgh at Johnstown (UPJ) in the Pennsylvania State Athletic Conference Tournament Championship on Nov. 18, the Gannon University volleyball team came back Friday and defeated UPJ 3-1 in the semifinals of the NCAA Division II Atlantic Regional Tournament hosted by Wheeling Jesuit University.
With the win, the Knights earned a berth in Saturday's 7 p.m. regional final against host Wheeling Jesuit.
Wheeling Jesuit, the regional tournament's top seed, enters Saturday's game with a record of 32-5 and Gannon comes in with a 30-6 record.
The winner of Saturday's game advances to the Division II Elite Eight in Pensacola, Fla. Gannon's most recent trip to the Elite Eight came in 1993.
In Friday's win over Pitt-Johnstown, Gannon took the first set 25-14, fell in the second set 25-22, came back in the third to win 25-17 and closed out the match winning the final set 25-23.
Senior Kelsey Ansec led the team in kills with 24, and behind her were sophomore Ally Smith with 18 and senior Maggie Wilhelm with nine.
Ansec tied her career-high in kills Friday in her 16th consecutive match with double-digit kills.
Sophomore Toni Leitshuh lead the team in aces with two, Wilhelm led in blocks with six, freshman Ashley Beyers led the team in unselfish play with 48 assists and Smith led the team in digs as she contributed 17 of the team's total of 76.
Beyers and senior Sara Crandall were right on her heels, with each recording 15 digs.
BRANDON JACES