Gannon volleyball opens NCAA Tournament with 3-1 win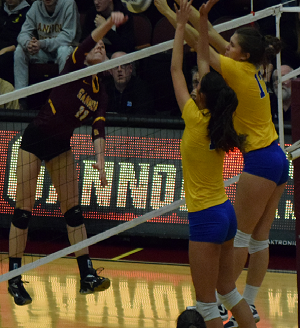 Gannon University defeated Pennsylvania State Athletic Conference opponent Shippensburg University Thursday in a 3-1 win down in West Virginia at Wheeling Jesuit University during the first round of the NCAA Division II Atlantic Regional Tournament. The Knights won the first match 25-21, lost the second 25-19 and won the next two 25-21, 25-16.
Up next, the Knights will take on the University of Pittsburgh at Johnstown Friday at 5 p.m. down at Wheeling Jesuit. Pitt-Johnstown defeated Gannon 3-2 in the PSAC Championship over a week ago. The no. 3-seed UPJ is coming off a sweeping victory over No. 6 Seton Hill University.
Sophomore Ally Smith led the charge for Gannon recording a career-high 20 kills in the first-round victory. In the first match, Gannon was down 14-12, but kicked it into gear with an 8-1 run that put the Knights up 20-15. From then on they battled until they ultimately won, 25-21. The Raiders got their revenge in the second match with a 25-19 victory to even the score at 1-1.
Gannon bounced back winning 25-21 in the third set for a 2-1 edge. The Knights kept the wind in their sails through set four as they won 25-19 to take a 3-1 victory.
Senior Kelsey Ansec and Smith were key players in the four match splitting six kills for a 13-8 lead. The Raiders closed the gap with three straight points to put the score at 13-11. Senior Maggie Wilhelm catalyzed a 12-5 run to give the Knights the momentum they needed to get the win.
On the coattails of Smith's 20 kills was Ansec with 18. Smith also had one ace and block, Ansec contributed 2 blocks and redshirt senior Rebekah Smith had three kills and five blocks.
The Knights also stood out in digs and had four players with over\ 10 digs. Senior Sara Crandall had her 15th match with over 20 digs, and she led with 24, freshman Ashley Beyers had 12, Smith had 12 and Wilhelm had 11.
BRANDON JACES