Gannon graduate turned Washington Post writer visits campus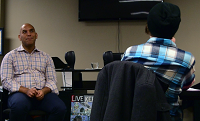 Gannon University invited alumnus Tim Craig, a veteran reporter at The Washington Post, to speak about his experiences in journalism to several classes Thursday.
Craig, who graduated from Gannon in 1999 with a degree in Communications English, joined the Post in 2003 and has served as a foreign correspondent in Afghanistan and Pakistan.
During his time at Gannon, which spanned from 1995 to 1999, Craig was involved in a fraternity and also began writing for The Gannon Knight during his sophomore year.
He said writing came easy to him, and he was esteemed for his sometimes-controversial stories.
"I tried to write about things that didn't just come from the press releases," he said. "I wrote about the student body, fraternities and controversial things on campus."
During his time at Gannon, Craig used his affiliation with the political science department to earn internships at places such as CNN, The Washington Center, Roll Call and The Pittsburgh Post-Gazette. Among his internship experiences was a trip to San Diego, where he covered the 1998 Republican National Convention.
Craig said he was unsure what he wanted to do following graduation, but it didn't take long for things to fall into place for him.
He began his reporting career in 1999 at The Baltimore Sun, a job he got by happenstance when he met an editor for the paper on his way out of a job fair in Long Island, N.Y., during his last year at Gannon.
Craig said this was the first time he had been to New York by himself. He saw a poster advertising the job fair, put together a resume and took the train there from Erie.
That chance meeting led to an interview with the Sun and ultimately a job. His first beat at the paper involved covering crime and in 2002 he moved to Maryland to cover politics. One year later, he was recruited by the Post, where he would eventually work covering local government in Washington, D.C., and as the state house reporter in Richmond, Va.
Craig said he found the drama in covering politics fascinating and enjoyed making a difference at the local level as well since news coverage of elections had a deep impact on the people and communities affected.
After his experiences in Richmond, Craig moved back to D.C. in 2011, when he was asked to cover stories in Iraq for the Post. He said that once he settled in, he found that the country was not as bad as it had previously seemed to him on the outside.
Once he returning to D.C. from Iraq, Craig had a few other assignments for the Post before being asked to cover stories overseas in Pakistan as the head of the paper's Afghanistan-Pakistan Bureau.
He said his experiences working police and crime for The Baltimore Sun actually helped him while in Afghanistan and Pakistan. He said in Baltimore he would often see heart-wrenching situations and those better prepared him for seeing similar conditions in the South Asia.
Craig said that he is thankful for his experiences in Pakistan because they broadened his horizons, allowed him to take a risk and helped him to learn and understand more about the world. He also said his time there helped him understand the military better.
"Covering the military was a real eye-opening experience to be able to see just how efficient they really are," he said.
Craig offered three points of advice to journalism students: Don't underestimate going places, remember that what interests you will set you apart from others in your field and say yes, unless you have a really good reason not to.
Justin Karns, WERG's assistant news director, attended a private luncheon with Craig, and was encouraged by Craig's message, which he characterized as "powerful and insightful."
"I'm thankful that I had the opportunity to hear about his struggles growing up," Karns said of Craig. "I believe anyone can learn from his experience, as it shows you don't have to be perfect to be successful in life.
"The most important thing is that you're making progress toward your passions and aspirations."
MC Gensheimer, an assistant professor and co-director of Gannon's School of Communication and the Arts, noted that Craig told students to try to become an expert in their particular area of interest.
"His words seemed to resonate with Gannon news leaders from the Knight and WERG," said Gensheimer, who also attended the luncheon.
Craig attributed his success to luck and hard work – and not being afraid to take a chance.
"Sometimes you have to take a risk to get the job you want," Craig said. "It's just putting yourself in the mindset of being able to make or break and make a change, which I get can be difficult."
ANTHONY ESPOSITO
PAIGE GROFF