Remembering Chester Bennington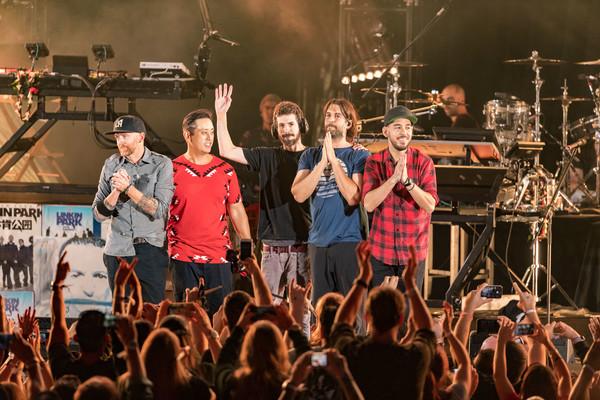 Linkin Park recently performed their first concert since the death of front man and lead vocalist, Chester Bennington, on July 20.
Bennington died of suicide in his home in Los Angeles County just days before the popular alternative band was set to begin their 29-day long North American tour of their album "One More Light."
On Oct. 27, the band performed in an event dubbed "Linkin Park & Friends Celebrate Life in Honor of Chester Bennington."
The concert was held at the Hollywood Bowl and live streamed directly to YouTube for fans who were unable to attend in person.
Although I was unable to watch on Friday evening, I have since taken three days to work my way through the footage of the three-hour concert.
I was unable to fully watch the first two songs, a mashup of "Robot Boy," "The Messenger" and "Iridescent" followed by "Roads Untraveled," before tears began to run down my face.
Throughout the night, Linkin Park supplemented their performances by calling numerous guest artists to stage for collaboration.
The lineup included everyone from Gavin Rossdale of Bush to Takahiro Moriuchi, a Japanese contemporary artist, and Machine Gun Kelly.
The truth is that, even though many of these artists gave it their absolute best shot, no one will ever be able to replace the vocals of Bennington.
If I had to pick a favorite performance of the night, it would have to be when Steven McKellar, a South African artist, joined Mike Shinoda of Linkin Park on stage to complete a rendition of "Nobody Can Save Me," a popular song off the "One More Light" album.
I also had a smile on my face in the odd moment when Shinoda called off the beginning of the instrumental introduction of "Battle Symphony" and made the band start over, claiming, "We are not starting this s— all f—– up. That's not happening. Chester would not have this s—."
Although Linkin Park members said they were unsure of what the future of the band would look like, concertgoers and virtual viewers were lucky to hear a new piece that the band started working on as a means to cope just days after Bennington's death.
Shinoda introduced the song, "Looking for an Answer," which he said the band plans to develop further and share on social media for Linkin Park fans to keep up with.
The overarching theme of the night was to look past Bennington's death and rather celebrate his life while advocating for ways to better serve those confronting mental illness.
Nearing the end of the concert, Bennington's widow, Talinda, took the stage to read a speech she had written and introduce a new organization she is starting in memory of her deceased husband.
320 Changes Direction will be named after Bennigton's birthday, March 20, and will provide mental health care and advocacy to those in need.
Talinda Bennington also announced that mental health professionals were in the audience wearing designated gray-colored shirts for those who needed support at the event.
"It is time we recognize that our mental health is as important as our physical health," she said.
Like many fans, my heart is still broken over the loss of Bennington, and I am unsure of how the Linkin Park I have grown to know and love will overcome this great tragedy.
I am thankful that the band had the strength to pull together one concert in memory of Bennington, as I do feel some sense of closure after watching from the comfort of my living room.
Thank you, Linkin Park and Chester Bennington for the music you have produced over the past 10 years.
Like many fans, I will continue to support your band and your causes, regardless of the shape those take in the years to come.
KATE ROBB
[email protected]