Volleyball splits two games; Ansec reaches career milestone for kills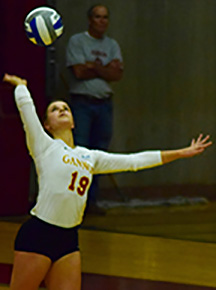 The Gannon University volleyball team split a pair of games this weekend and saw senior Kelsey Ansec record her 1,000th kill while taking care of business against Kutztown in straight sets Friday, 25-21, 25-13, 25-13.
The next day, East Stroudsburg came to town and got the best of the Knights, 25-22, 29-27, 15-25, 26-24, at the Hammermill Center.
The split left Gannon with an overall record of 21-5 and a 10-3 mark in Pennsylvania State Athletic Conference action going into Friday's 7 p.m. road matchup against West Chester.
The Knights remain in first place in the Northwest Division and are tied for the second-best record in the PSAC with Pitt-Johnstown, Seton Hill and Indiana University of Pennsylvania.
Ansec was rewarded with a game ball for her 1,000th kill in Gannon's sweep of Kutztown.
Early in the first set, the Knights jumped out to a 6-1 advantage thanks to kills from Rebekah Smith and Toni Leitshuh. Gannon increased its lead to 14-7 before a Kutztown 12-5 run knotted the set up at 19. The Knights then scored five of the last seven to take set one.
In a back-and-forth set two, Gannon broke off a 7-2 run to take a 15-8 lead and never looked back. Up 21-13, Ansec took an Ashley Beyers set and smashed her 1,000th career kill on their way to a 25-13 set victory.
In set three, Kutztown scored three of the first four points before a 6-1 spurt put the Knights up 7-4. Up 9-7, Gannon struck 13 straight points to eventually cap the set at 25-13.
Ansec led the Knights in kills (16) for the fifth consecutive match. Beyers led Gannon with 20 assists while Sara Crandall had a team-high 14 digs.
On Saturday, Gannon battled in every set against East Stroudsburg (5-8 in PSAC play), but ultimately fell short, 3-1.
Ansec led the team in kills for the sixth straight match with 15 alongside seven digs. Sara Crandall's 33 digs were tops, and Gannon's 108 digs were the most among any conference team in a four-set match this season.
Alongside Crandall, Leitshuh (23), Carolyn Knollman (16), and Ally Smith (14) reached double-digits in digs.
Beyers added 27 assists for the squad with Knollman chipping in 18 of her own.
Following Friday's matchup at West Chester, the Knights will continue their road trip Saturday with an 11 a.m. match against Cheney.
MATTHEW FASSNACHT
[email protected]